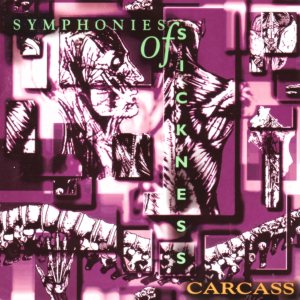 Added by

Eagles
Last edited by

Angelbeats
Symphonies of Sickness Information
| | Title | Length | Rating | Votes |
| --- | --- | --- | --- | --- |
| 1. | Reek of Putrefaction | 4:12 | - | 0 |
| 2. | Exhume to Consume | 3:51 | - | 0 |
| 3. | Excoriating Abdominal Emanation | 4:32 | - | 0 |
| 4. | Ruptured In Purulence | 4:12 | - | 0 |
| 5. | Empathological Necroticism | 5:45 | - | 0 |
| 6. | Embryonic Necropsy and Devourment | 5:14 | - | 0 |
| 7. | Swarming Vulgar Mass of Infected Virulency | 3:10 | - | 0 |
| 8. | Cadaveric Incubator of Endoparasites | 3:25 | - | 0 |
| 9. | Slash Dementia | 3:23 | - | 0 |
| 10. | Crepitating Bowel Erosion | 5:28 | - | 0 |
Jeff Walker

:

Vocals, Bass

Bill Steer

:

Vocals, Lead Guitar

Ken Owen

:

Drums, Vocals
Production staff / artist
Colin Richardson

:

Engineering, Producer

Digby Pearson

:

Executive Producer

Martin Toher

:

Engineering (assistant)
Additional notes
CD - MOSH 18CD

Recorded and Mixed at Slaghterhouse Studios, July - August 1989.
Sleeve art and layout by Gruesome Graphics Inc.
Lyrics by Carcass.
Produced by Carcass.

A limited edition (featuring the "gore" cover artwork) was once released containing 16 bonus tracks taken from the "Reek of Putrefaction" album. The total running time of this version is 76:58.

The original "gore" cover, which was later banned and replaced by a "clean" cover, which was drawings of a human similar to those found in biology books. The exact same cover was used for "Reek of Putrefaction" except with a different color scheme. Now in the year 2002/2003, the gore covers were put back.

October 2008 reissue: Fully remastered on a DualDisc (combined CD and DVD) in a deluxe digipak with expanded artwork. It includes part 2 of a mini-documentary series entitled "The Pathologist's Report" as bonus video material on the DVD side, plus 6 bonus tracks from the "Symphonies of Sickness" demo-tape on the CD side.
Symphonies of Sickness Comments

dugas
(95/100)
이건 카르카스의 최대 명작 no.1이다.

지견근
(90/100)
숨 좀 쉬자