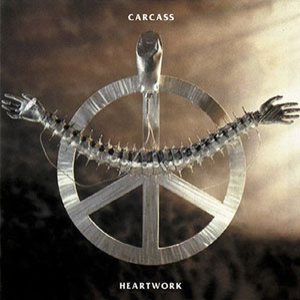 Heartwork
| | |
| --- | --- |
| Artist | |
| Type | Studio Full-length |
| Released | 1993-10-18 |
| Genres | Death Metal |
| Labels | Earache, Columbia Records |
| Length | 41:55 |
| Ranked | #14 for 1993 , #611 all-time |
Added by

Eagles
Last edited by

Angelbeats
| | Title | Length | Rating | Votes |
| --- | --- | --- | --- | --- |
| 1. | Buried Dreams | 3:59 | 85 | 1 |
| 2. | Carnal Forge | 3:55 | 75 | 1 |
| 3. | No Love Lost | 3:23 | 80 | 1 |
| 4. | Heartwork | 4:33 | 90 | 1 |
| 5. | Embodiment | 5:36 | 75 | 1 |
| 6. | This Mortal Coil | 3:50 | 75 | 1 |
| 7. | Arbeit Macht Fleisch | 4:22 | 80 | 1 |
| 8. | Blind Bleeding the Blind | 4:57 | 80 | 1 |
| 9. | Doctrinal Expletives | 3:39 | 70 | 1 |
| 10. | Death Certificate | 3:41 | 80 | 1 |
Bill Steer

:

Guitars

Ken Owen

:

Drums
Michael Amott

:

Guitars (lead)

Jeff Walker

:

Bass, Vocals
Production staff / artist
H. R. Giger

:

Cover Art

Jurg Kümmer

:

Photography

Jeff Walker

:

Lyrics

Andrea Wright

:

Assistant Engineering

Dave Buchanan

:

Assistant Engineering

Keith Andrews

:

Engineering

Colin Richardson

:

Producer

Andrew Tuohy

:

Design
Additional notes
Recorded and Mixed at Parr Street Studios between May 18th - June 21st 1993.
Front album sculpture "Life Support" copyright H.R. Giger 1993, Used by kind permission.
Design by Andrew Tuohy.

Later versions come with a bonus track, "This Is Your Life" (4:08).

Re-released in 2004 by Earache, with two bonus Quicktime videos: No Love Lost & Heartwork.

June 2008 Digipack reissue: Fully remastered on a DualDisc (CD and DVD) with part 4 of a mini-documentary series entitled "The Pathologist's Report" as bonus video material. In addition to the bonus documentary, the reissue also comes with an exclusive bonus CD of previously unheard pre-Heartwork demo tracks.
Reviewer :

Eagles
(

75

/

100

)
난해하고 해괴한 의학용어, 징그러운 시체사진등이 사라지고 사회비판적인 메시지, 자로잰 듯한 지성적인 구성력을 들려준 네 번째 정규작 Heartwork로 Carcass는 새로운 전기를 맞이하게 된다. 초기의 동물적인 Grindcore를 그리워하는 골수팬들에겐 지탄을 받기도 하지만, Melodic Death Metal이 번성한 시점에서 볼 때 Heartwork 앨범은 그 시발점으로서, 한계에 다다른 정통데쓰의 돌파구는 짜임새있는 멜로디와 구성임을 확인시켜주며 선구자적 역할을 충실히 수행했다. Earache 레이블의 보배인 Carcass의 음악적 역량이 최고조로 응집된 마스터피스로 평가되는 앨범으로 기존 데쓰메틀의 요소들을 충실히 지키면서 이들만의 테크니컬하고 드라마틱한 사운드를 접목시켰다.

Best Track : Heartwork

dugas
(100/100)
카르카스가 기존의 데스메탈에서 멜데쓰로 방향을 선회했다. 중독성 있는 리프, 진행, 훨씬 지적인 가사, 버릴 것이 없는 트랙 10개, 그리고 더욱 빛나는 아못과 스티어의 트윈 기타가 장점. 카르카스의 최고 명작이다.

Angelbeats
(90/100)
지적인 데스메탈이라는 소릴 들을 정도로 이 앨범은 정말 무서운 리프들로 가득차 있다.