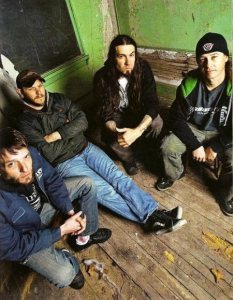 Soilent Green
L. Ben Falgoust II

:

Vocals

(1993-)

Brian Patton

:

Guitars

(1988-)

Scott Crochet

:

Bass

(2003-)

Tommy Buckley

:

Drums

(1988-)
Marcel Trenchard

:

Bass

(1988-1992)

Donovan Punch

:

Guitars

(1988-1998)

Glenn Rambo (R.I.P. 2005)

:

Vocals

(1988-1992)

Scott Williams (R.I.P. 2004)

:

Bass

(1992-2002)

Ben Stout

:

Guitars

(2000-2001)

Tony White

:

Guitars

(2003-2005)

Gregg Harney

:

Guitars

(2005-2007)
Releases : 10 Total votes : 0 Reviews : 0
Added by

SludgeLeader
Soilent Green Discography
Additional notes
Formed after founding members Glenn Rambo, Donovan Punch and Brian Patton left Nuclear Crucifixion.

Soilent Green are named after the sci-fi movie from the 1970's; Soylent Green (probably changed to Soilent Green by the band to avoid copyright infringement).

The band usually borrows artwork from the Czech painter Alphonse Mucha for their album covers.