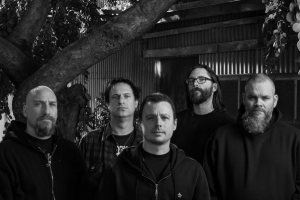 Neurosis
Scott Kelly

:

Vocals, Guitars

(1985-)

Steve Von Till

:

Guitars, Vocals

(1989-)

Dave Edwardson

:

Bass, Additional Vocals

(1985-)

Jason Roeder

:

Drums

(1985-)

Noah Landis

:

Keyboards, Organ, Piano, Samples, Effects

(1995-)
Gator Tofu

:

Guitars, Vocals

(1985-1989)

Simon McIlroy

:

Keyboards, Samples, Tape

(1990-1994)

Adam Kendall

:

Visual Media

(1990-1993)

Pete Inc.

:

Visual Media, Additional Drums

(1993-2000)

Jackie Perez Gratz

:

Cello

(1999-2000)

Josh Graham

:

Visual Media

(2000-2012)
Releases : 23 Total votes : 0 Reviews : 0
Added by

SludgeLeader
Additional notes
Neurosis are major pioneers of the "post-metal" subgenre, and a highly influential sludge band, and by many, considered to be one of the first bands to play this sub-genre of hardcore and metal. Starting with raw hardcore/crust punk in the mid-80's, over the years they evolved through a more atmospheric and psychedelic sound as well as experimenting with many genres (ambient, doom metal, progressive, tribal, post-hardcore and more); resulting in their own original sound.

The band created their own label named Neurot Recordings to release Neurosis' music, as well as various side projects and other artists they feel close with.

Scott Kelly and Steve Von Till have both released solo albums beside Neurosis.

Neurosis live shows are noticed for their visuals and the total lack of communication with the audience. The band has been using live visual media since 1990.

The 'Black' 7" is a bootleg.

Contributed the track "Saturday Night Holocaust" to the Dead Kennedys tribute "Virus 100".