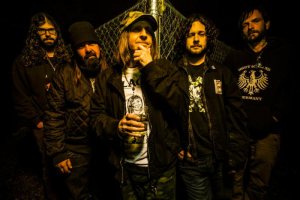 Eyehategod
Mike Williams

:

Vocals

(1989-)

Jimmy Bower

:

Guitars

(1988-)

Brian Patton

:

Guitars

(1993-)

Gary Mader

:

Bass

(2001-)

Aaron Hill

:

Drums

(2013-)
Joe Fazzio

:

Drums

Kevin Noonan

:

Bass

(1988)

Steve Dale

:

Bass

(1988-1992)

Joey Delatte

:

Drums

(1988-1989)

Mark Schultz

:

Guitar

(1988-1992)

, Bass

(1992-1995)

Chris Hillard

:

Vocals

(1988-1989)

Joe LaCaze

:

Drums

(1989-2013)

(R.I.P. 2013)

Vince LeBlanc

:

Bass

(1996-1999)

Danny Nick

:

Bass

(2000-2001)
Releases : 21 Total votes : 0 Reviews : 0
Added by

SludgeLeader
Last edited by

SludgeLeader
Additional notes
Seth Putnam, a friend of the band, did vocals for one Eyehategod show while Mike was in prison. Phil Anselmo played guitar for a show at CBGB's (replacing Brian Patton), and has also appeared live with Eyehategod numerous times.

EHG appeared on the "13 Bands Who Think You're Gay" compilation along with bands such as Anal Cunt, Raunchous Brothers, Mudoven, Nasty Disaster, and Thor.

Have a 2-CD tribute album titled "For The Sick" released on Emetic Records with cover songs from bands like Brutal Truth, Sourvein, Minsk, Lair of the Minotaur, Alabama Thunderpussy, Ramesses, and many others.

At the Roadburn 2010 festival in Tilburg (Holland), Mike Williams, Brian Patton and Joey Lacaze formed a grindcore project named "Fuckmouth". They played a few songs, waiting for Gary Mader to replace a broken string.