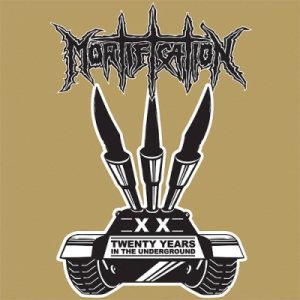 Twenty Years in the Underground
Reviews : 0
Comments : 0
Total votes : 0
Rating : -
Have : 0
Want : 0
Added by

SludgeLeader
Twenty Years in the Underground Information
Title
Length
Rating
Votes
Disc 1
1.

Nocturnal (re-recorded version)

5:49
-
0
2.

Grind Planetarium (re-recorded version)

5:07
-
0
3.

Impulsation (re-recorded version)

4:20
-
0
4.

Hammer of God (re-recorded version)

3:40
-
0
5.

The Majestic Infiltration of Order (re-recorded version)

1:26
-
0
6.

Eyes of Destruction (live)

4:44
-
0
7.

Searching (live)

5:07
-
0
8.

City Streets (live)

4:04
-
0
9.

Bloodworld (live)

4:23
-
0
10.

Scrolls of the Megilloth (live)

3:21
-
0
11.

Spoken Word Part I (live)

0:33
-
0
12.

New Beginnings (live)

2:49
-
0
13.

Spoken Word Part II (live)

0:53
-
0
14.

Chapel of Hope (live)

4:13
-
0
15.

Spoken Word Part III (live)

0:19
-
0
16.

Too Much Pain (live)

3:29
-
0
17.

Spoken Word Part IV (live)

1:42
-
0
18.

12 Men (live)

3:13
-
0
19.

I'm Not Your Commodity (live)

4:35
-
0
20.

Priests of the Underground (live)

5:12
-
0
Disc 2
1.

Grind Planetarium (live)

5:16
-
0
2.

Distarnish Priest (live)

7:50
-
0
3.

Brutal Warfare (live)

4:09
-
0
4.

The Destroyer Beholds (live)

3:56
-
0
5.

Inflamed (live)

3:30
-
0
6.

Scrolls of the Megilloth (live)

3:28
-
0
7.

Symbiosis (live)

6:03
-
0
8.

Time Crusaders (live)

5:42
-
0
9.

From the Valley of the Shadows (live)

8:12
-
0
10.

Human Condition (live)

5:44
-
0
11.

The Majestic Infiltration of Order (live)

1:10
-
0
12.

This Momentary Affliction (live)

0:46
-
0
13.

Metal Blessing (acoustic live)

6:50
-
0
14.

Standing at the Door of Death (acoustic live)

5:44
-
0
15.

Your Life (acoustic live)

4:17
-
0
16.

Grind Planetarium (acoustic live)

5:22
-
0
Additional notes
Disc 1:
Tracks 1-5 are re-recorded in 2009
Tracks 6-8 are recorded at first concert (June 15th, 1990).
Tracks 9 and 10 are recorded at Lincoln Bowen and Keith Bannister's first concert (August 19th, 1995).
Tracks 11-14 are recorded at busking on the street of Christchurch City Square, New Zealand (May 3, 1996).
Tracks 15-18 are recorded at Revolution Metal Fest, Mexico City (November 20th, 2004).
Tracks 19 and 20 are recorded at Nordic Fest, Norway (November 9th, 2007).

Disc 2:
Acoustic sessions taken from "Power, Pain & Passion" compilation.

Tracks 1-12 are recorded at Live Planetarium - Live at Black Stump Festival (October 1st, 1993).
Tracks 13-16 are recorded at acoustic live at the Seaside Festival, Norway and on Dutch Radio (June 2001).
Mortification Discography