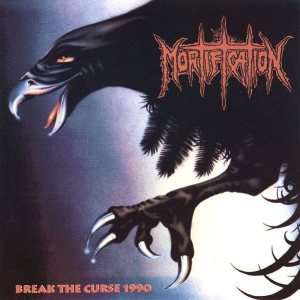 Break the Curse
Reviews : 0
Comments : 0
Total votes : 0
Rating : -
Have : 0
Want : 0
Added by

SludgeLeader
Break the Curse Information
| | Title | Length | Rating | Votes |
| --- | --- | --- | --- | --- |
| 1. | Blood Sacrifice | 3:36 | - | 0 |
| 2. | Brutal Warfare | 4:02 | - | 0 |
| 3. | Impulsation | 4:30 | - | 0 |
| 4. | Turn | 0:57 | - | 0 |
| 5. | New Beginnings | 2:37 | - | 0 |
| 6. | Break the Curse | 2:38 | - | 0 |
| 7. | Illusion of Life | 4:56 | - | 0 |
| 8. | Your Last Breath | 3:25 | - | 0 |
| 9. | Journey of Reconciliation | 4:27 | - | 0 |
| 10. | The Majestic Infiltration of Order | 1:08 | - | 0 |
Additional notes
Originally released as a demo in 1990, on cassette only, when they were still called Light Force. The picture below is from the 1994 CD release. The original demo had 6 tracks only. Steve Rowe, due to his recent words, considers it demo-tape and half of rerecorded songs confirms it very well.

Some versions include a bonus track:
11. Butchered Mutilation

Re-released in 2010 by Roxx Records as a strictly limited-edition, two-disc, gold-letter edition.
The first 100 copies only will come with what is to be the first in a series for Roxx Records: a limited-edition signature guitar pick.
Mortification Discography