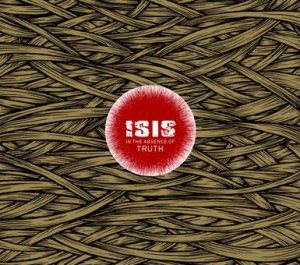 In the Absence of Truth
Reviews : 0
Comments : 0
Total votes : 0
Rating : -
Have : 0
Want : 0
Added by

SludgeLeader
In the Absence of Truth Information
| | Title | Length | Rating | Votes |
| --- | --- | --- | --- | --- |
| 1. | Wrists of Kings | 7:45 | - | 0 |
| 2. | Not in Rivers, But in Drops | 7:48 | - | 0 |
| 3. | Dulcinea | 7:10 | - | 0 |
| 4. | Over Root and Thorn | 8:31 | - | 0 |
| 5. | 1,000 Shards | 6:17 | - | 0 |
| 6. | All Out of Time, All into Space | 3:04 | - | 0 |
| 7. | Holy Tears | 7:04 | - | 0 |
| 8. | Firdous e Bareen | 7:50 | - | 0 |
| 9. | Garden of Light | 9:17 | - | 0 |
Aaron Turner

:

Vocals, Guitars

Bryant C. Meyer

:

Samples, Vocals

Mike Gallagher

:

Guitars

Jeff Caxide

:

Bass

Aaron Harris

:

Drums
Guest / session musicians
Troy Ziegler

:

Additional Percussion, Acoustic Guitar (on "Firdous E Bareen")

Charley Turner

:

Additional Vocals (on "Not in Rivers, But in Drops" & "Holy Tears")

Caleb Scofield

:

Additional Vocals (on "1, 000 Shards")
Production staff / artist
Troy Zeigler

:

Technician

Greg Moss

:

Technician

Ed Brooks

:

Mastering

Matt Bayles

:

Producer, Engineering, Mixing

Aaron Turner

:

Artwork, Cover Art, Design

Mike Gerlach

:

Engineering (assistant)
Additional notes
Recorded and mixed at The Bomb Shelter in Los Angeles, June / July 2006.
Mastered at RFI in Seattle, July 2006.

Vinyl released on the 15th of November. Pressing Info:
• 700 (Black)
• 500 (White with black streaks)
• 500 (Clear with red streaks)
• 300 (White with red streaks; exclusive through Conspiracy Records)

With, and following, the release of this album, Aaron Turner maintained that he won't be releasing accompanying lyrics.