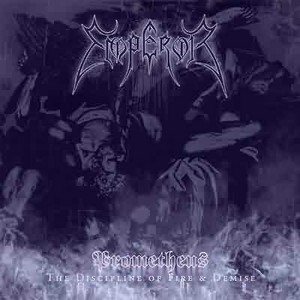 Prometheus - The Discipline of Fire & Demise
Prometheus - The Discipline of Fire & Demise Information
| | Title | Length | Rating | Votes |
| --- | --- | --- | --- | --- |
| 1. | The Eruption | 6:28 | 85 | 1 |
| 2. | Depraved | 6:33 | 70 | 1 |
| 3. | Empty | 4:16 | 80 | 1 |
| 4. | The Prophet | 5:41 | 75 | 1 |
| 5. | The Tongue of Fire | 7:10 | 75 | 1 |
| 6. | In the Wordless Chamber | 5:13 | 80 | 1 |
| 7. | Grey | 5:05 | 65 | 1 |
| 8. | He Who Sought the Fire | 5:29 | 70 | 1 |
| 9. | Thorns on My Grave | 5:56 | 70 | 1 |
Ihsahn

:

Vocals, Guitars, Keyboards, Bass, Programming, Lyrics

Samoth

:

Additional Guitars

Trym Torson

:

Drums, Percussion
Production staff / artist
Ihsahn

:

Producer

Thorbjørn Akkerhaugen

:

Mixing Engineer

Tom Kvålsvoll

:

Mastering Engineer

Johan Hammarman

:

Art Direction, Artwork, Photography

Christophe Szpajdel

:

Logo
Additional notes
This was the final full length by Emperor. This last effort lost their black metal element, being more of a "extreme symphonic metal" album with clean vocals and keyboards/sound effects galore.

Recorded at Symphonique Studios, Winter 2000 - Spring 2001.
A video was made for the song "Empty".
Re-released in 2006 by Back on Black Records. Gatefold LP
Re-issued by Candlelight Records in 2007 as a numbered limited edition boxset.
Prometheus - The Discipline of Fire & Demise Reviews
Reviewer :

Eagles
(

75

/

100

)
Black Metal의 황제, Emperor의 라이브 앨범 포함 공식 5집이자 최후의 앨범 Prometheus: The Discipline Of Fire & Demise 이다. Symphonic Black의 시조격인 이들이지만 더이상 자신들이 만들어 놓은 전형성을 따르지 않는다. 3집 Ix Equilibrium에서 보여준 Black Metal의 새로운 방법론을 보다 완벽하게 구현하였다고 평가받는 앨범으로, 곡들은 정신이 없을 정도로 난해함을 내비치지만 각 파트의 유기적인 조화는 따로 때어놓고 생각할 수 없을 만큼 농축되어 있다. 라인업은 기타의 Samoth, 보컬, 기타, 베이스, 키보드의 Ihsahn, 드럼의 Trym이며, Samoth와 Trym의 프로젝트밴드 Zyklon에서의 활동으로 인해 곡작업은 거의 Ihsahn에 의해 이루어졌다. 역시 초기시절부터 함께한 Candlelight Records에서 발매되었으며, 마지막 앨범이라서 그런지 가장 장엄하게 들리기도 한다.

Best Track : The Eruption