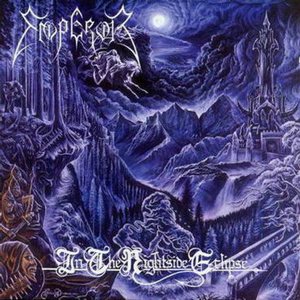 In The Nightside Eclipse Information
| | Title | Length | Rating | Votes |
| --- | --- | --- | --- | --- |
| 1. | Intro | 0:52 | 85 | 1 |
| 2. | Into the Infinity of Thoughts | 8:14 | 95 | 1 |
| 3. | The Burning Shadows of Silence | 5:36 | 90 | 1 |
| 4. | Cosmic Keys to My Creations & Times | 6:06 | 85 | 1 |
| 5. | Beyond the Great Vast Forest | 6:01 | 90 | 1 |
| 6. | Towards the Pantheon | 5:57 | 90 | 1 |
| 7. | The Majesty of the Nightsky | 4:54 | 90 | 1 |
| 8. | I Am the Black Wizards | 6:01 | 95 | 2 |
| 9. | Inno A Satana | 4:48 | 100 | 1 |
Ihsahn

:

Vocals, Guitars, Keyboards, Music, Lyrics

Samoth

:

Guitars, Music, Lyrics

Tchort

:

Bass

Faust

:

Drums
Production staff / artist
Emperor

:

Producer

Pytten

:

Producer, Mixing Engineer

Necrolord

:

Cover Art

Christophe Szpajdel

:

Logo
Additional notes
Recorded during the seventh full moon anno 1993 at Grieghallen Studios. Mixed winter anno 1994.
Music composed by Samoth and Ihsahn. Lyrics by Samoth, Ihsahn and Mortiis (tracks 4 and 8).

The 1999 and 2004 remasters include 2 bonus tracks:
10. A Fine Day to Die (Bathory cover) (Recorded during the "Anthems..." sessions)
11. Gypsy (Mercyful Fate cover)

Re-issued in 2004 under Candlelight Records. The reissue includes edited material from a live show in Oslo for the song "Towards the Pantheon", as well as various other clips from live recordings in 1997.
Re-released in 2006 by Back on Black Records as Gatefold LP.
Re-issued by Candlelight Records in 2007 as a numbered limited edition boxset.
In The Nightside Eclipse Reviews
Reviewer :

Eagles
(

90

/

100

)
Black Metal계의 유명인사 Ihsahn과 Samoth를 탄생시킨 음반으로 앞으로 수많은 밴드들에 의해 펼쳐지게될 Symphonic Black Metal의 전형을 제시한 걸작 In The Nightside Eclipse 앨범이다. 광폭한 투베이스 드러밍과 정신없는 속도를 전해주는 트레몰로 주법의 기타, 비명소리에 가까운 고음 샤우팅 보컬, 그리고 그위에 광대하게 펼쳐지는 신비롭고 공포스러운 신디사이저 음향은 본작 이후 계열음악의 진정한 모범답안으로 자리잡게 된다. 극적인 구성과 화려한 스트링 사운드가 압권인 Inno A Satana, Emperor 음악의 전형으로 깊은 여운을 안겨주는 Into The Infinity Of Thoughts등을 수록하고 있다. 이 한장의 앨범으로 인해 자신들의 이름 그대로 황제에 등극하게 된다.

Killing Track : Inno A Satana
Best Track : Into The Infinity Of Thoughts , A Fine Day To Die (bonus track)