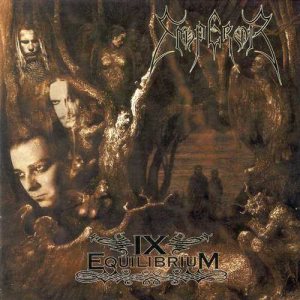 IX Equilibrium
Reviews : 0
Comments : 0
Total votes : 0
Rating : -
IX Equilibrium Information
| | Title | Length | Rating | Votes |
| --- | --- | --- | --- | --- |
| 1. | Curse You All Men! | 4:41 | 85 | 1 |
| 2. | Decrystallizing Reason | 6:23 | - | 0 |
| 3. | An Elegy of Icaros | 6:39 | 85 | 1 |
| 4. | The Source of Icon E | 3:43 | - | 0 |
| 5. | Sworn | 4:30 | - | 0 |
| 6. | Nonus Aequilibrium | 5:49 | - | 0 |
| 7. | The Warriors of Modern Death | 5:00 | - | 0 |
| 8. | Of Blindness & Subsequent Seers | 6:48 | - | 0 |
Ihsahn

:

Vocals, Guitars, Keyboards, Bass, Music, Lyrics

Samoth

:

Rhythm Guitars

Trym Torson

:

Drums, Percussion
Production staff / artist
Thorbjørn Akkerhaugen

:

Producer, Engineer
Emperor

:

Producer, Engineer

Tom Kvålsvoll

:

Mastering Engineer

Stephen O'Malley

:

Artwork, Design

Samoth

:

Art Concept

Christophe Szpajdel

:

Logo
Additional notes
First press came with an exclusive band sticker.

There is a hidden 9th track (0:28) after "Of Blindness And Subsequent Seers".
There is a digipack version that doesn't have a booklet, though it has two bonus tracks:
9. Curse you all Men! (Live - At the Astoria, London July '99)
10. Sworn (Revamped by ulver at Endless Studios)

Re-released in 2006 by Back on Black Records. Gatefold LP

Re-issued by Candlelight Records in 2007 as a numbered limited edition boxset.