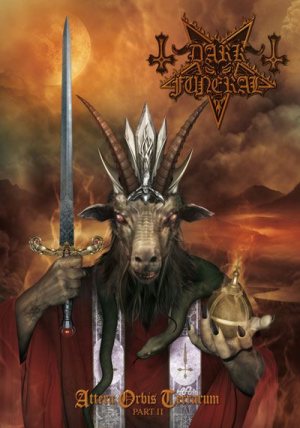 Attera Orbis Terrarum - Part II
| | |
| --- | --- |
| Artist | |
| Type | Video |
| Released | 2008-10-20 |
| Genres | Black Metal |
| Labels | Regain Records |
Reviews : 0
Comments : 0
Total votes : 0
Rating : -
Have : 0
Want : 0
Added by

SludgeLeader
Attera Orbis Terrarum - Part II Information
Title
Length
Rating
Votes
Disc 1
1.

Intro (Live in Argentina 2006)

1:29
-
0
2.

King Antichrist (Live in Argentina 2006)

4:20
-
0
3.

Diabolis Interium (Live in Argentina 2006)

4:14
-
0
4.

Ravenna Strigoi Mortii (Live in Argentina 2006)

4:16
-
0
5.

The Arrival of Satan's Empire (Live in Argentina 2006)

3:47
-
0
6.

Open the Gates (Live in Argentina 2006)

4:10
-
0
7.

Vobiscum Satanas (Live in Argentina 2006)

4:56
-
0
8.

666 Voices Inside (Live in Argentina 2006)

4:36
-
0
9.

The Secrets of the Black Arts (Live in Argentina 2006)

3:58
-
0
10.

Attera Totus Sanctus (Live in Argentina 2006)

5:23
-
0
11.

Hail Murder (Live in Argentina 2006)

5:57
-
0
12.

Atrum Regina (Live in Argentina 2006)

6:01
-
0
13.

My Dark Desires (Live in Argentina 2006)

4:20
-
0
14.

An Apprentice of Satan (Live in Argentina 2006)

7:50
-
0
15.

The Dawn No More Rises (Live in Chicago, IL 1997)

4:09
-
0
16.

Satan's Mayhem (Live in Manhattan, NY 1997)

5:12
-
0
17.

The Secrets of the Black Arts (Live in Westland, MI 1999)

4:12
-
0
18.

Shadows of Transylvania (Live in San Bernadino, CA 2000)

3:36
-
0
19.

Bloodfrozen (Live in New York City, NY 2000)

4:02
-
0
20.

An Apprentice of Satan (Live in Hollywood, CA 2004)

5:32
-
0
21.

King Antichrist (Live in Los Angeles, CA 2007)

5:12
-
0
22.

Diabolis Interium (Live in Montreal, Canada 2007)

4:25
-
0
Disc 2
1.

King Antichrist (Live in Brazil 2006)

7:21
-
0
2.

Diabolis Interium (Live in Brazil 2006)

4:27
-
0
3.

Ravenna Strigoi Mortii (Live in Brazil 2006)

3:57
-
0
4.

The Arrival of Satan's Empire (Live in Brazil 2006)

3:41
-
0
5.

Open the Gates (Live in Brazil 2006)

4:01
-
0
6.

Vobiscum Satanas (Live in Brazil 2006)

4:09
-
0
7.

666 Voices Inside (Live in Brazil 2006)

4:13
-
0
8.

Attera Totus Sanctus (Live in Brazil 2006)

5:36
-
0
9.

The Secrets of the Black Arts (Live in Brazil 2006)

3:18
-
0
10.

Godhate (Live in Brazil 2006)

4:51
-
0
11.

Hail Murder (Live in Brazil 2006)

5:13
-
0
12.

Atrum Regina (Live in Brazil 2006)

4:48
-
0
13.

My Dark Desires (Live in Brazil 2006)

4:05
-
0
14.

An Apprentice of Satan (Live in Brazil 2006)

7:19
-
0
15.

My Dark Desires (Live in Porto Alegre, Brazil)

4:23
-
0
16.

The Arrival of Satan's Empire (Live in Santiago, Chile)

5:45
-
0
17.

Vobiscum Satanas (Live in Guatemala)

5:05
-
0
18.

Open the Gates (Live in Mexico City, Mexico)

5:42
-
0
19.

Godhate (Live in Campinas, Brazil)

4:36
-
0
Emperor Magus Caligula

:

Vocals, Bass

Chaq Mol

:

Guitars

Lord Ahriman

:

Guitars

B-Force

:

Bass

Matte Modin

:

Drums
Production staff / artist
Tommy Persson

:

Editing

Örjan Örnkloo

:

Mixing

Erik Sjölander

:

Producer, Mixing

Markus Miljand

:

Producer, Engineering

Magnus Gillberg

:

Editing

Tomasz Dziubiński

:

Producer

Octavio Lovisolo

:

Director
Additional notes
LIVE IN BUENOS AIRES/EL TEATRO [ARGENTINA]
Professionally filmed with 5 cameras, October 06, 2006.

LIVE IN SAO PAULO/LEDSLAY [BRASIL]
Professionally filmed with 6 cameras, September 23, 2006.
+
Previously unreleased amateur footage shot during Dark Funeral´s enormously successful tours throughout North America (1997-2007)and South America (2003 & 2006).

The DVD comes in a slipcase and includes a stunning A3 poster.