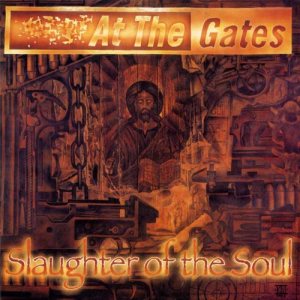 Added by

Eagles
Last edited by

SludgeLeader
Slaughter of the Soul Information
| | Title | Length | Rating | Votes |
| --- | --- | --- | --- | --- |
| 1. | Blinded by Fear | 3:12 | 95 | 2 |
| 2. | Slaughter of the Soul | 3:02 | 90 | 1 |
| 3. | Cold | 3:28 | 85 | 1 |
| 4. | Under a Serpent Sun | 3:59 | 80 | 1 |
| 5. | Into the Dead Sky | 2:13 | 75 | 1 |
| 6. | Suicide Nation | 3:36 | 85 | 1 |
| 7. | World of Lies | 3:35 | 80 | 1 |
| 8. | Unto Others | 3:11 | 80 | 1 |
| 9. | Nausea | 2:24 | 85 | 1 |
| 10. | Need | 2:36 | 80 | 1 |
| 11. | The Flames of the End | 2:57 | 75 | 1 |
Tomas Lindberg

:

Vocals, Lyrics

Martin Larsson

:

Guitars
Anders Björler

:

Guitars, Drums on "Into the Dead Sky"

Jonas Björler

:

Bass

Adrian Erlandsson

:

Drums
Guest / session musicians
Andy LaRocque

:

Lead Guitar on "Cold"
Production staff / artist
Kristian Wahlin

:

Cover Art, Artwork

Noel Summerville

:

Mastering

Fredrik Nordström

:

Producer

Tomas Johansson

:

Photography
Additional notes
Recorded and Mixed in Studio Fredman, May - July 1995.

"Into the Dead Sky" and "The Flames of the End" are instrumentals, but in the booklet, there are comments for the tracks.

A music video was created for "Blinded by Fear."

Was rereleased again in 2008 contains everything from the 2002 and 2006 re-releases (all audio and DVD material), as well as additional DVD footage -- an eight-song live set, recorded in Krakow, Poland on December 30, 1995.

2008 Bonus DVD:
Live from Krakow, Poland
01. Terminal Spirit Disease
02. Cold
03. The Swarm
04. Blinded by Fear
05. Nausea
06. Forever Blind
07. Need
08. Kingdom Gone
- "Making of Slaughter of the Soul" featurette
- Deleted Scenes
- Music video: "Blinded by Fear"

Earache Records also made a 12" vinyl version of this album with the bonus tracks.
Slaughter of the Soul Reviews
Reviewer :

Eagles
(

85

/

100

)
1990년 스웨덴의 Gothenburg에서 결성되었던 At The Gates은 지금은 비록 해산된 상태이지만 Melodic Death Metal계에 거대한 족적을 남긴 대그룹으로 평가된다. Slaughter Of The Soul 앨범은 정규 3집음반인 Terminal Spirit Disease와 함께 밴드 최고작으로 여겨지는 4집음반으로 이들의 마지막 작품이다. 통일성있는 연주, 절도있는 멜로디를 지닌 앨범으로 후에 예테보리 사운드의 열풍이 불어닥치자 멜로딕 데쓰의 흐름에 있어 재평가되었다. 세계적인 절품상태에 있었으나 2002년 Earache 레이블에서 본작을 리마스터 보너스반으로 재탄생시켜 다시금 빛을 보게 되었다.

Best Track : Blinded By Fear
Slaughter of the Soul Comments

Angelbeats
(90/100)
멜데스의 후기사운드인 소위 모던멜데스 사운드의 효시로 평가받는 앨범.