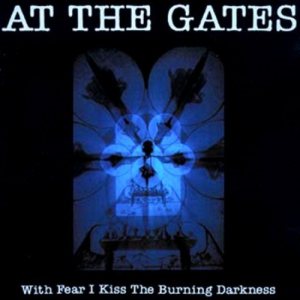 With Fear I Kiss the Burning Darkness
| | |
| --- | --- |
| Artist | |
| Type | Studio Full-length |
| Released | 1993-05-07 |
| Genres | Death Metal |
| Labels | Deaf |
| Length | 46:51 |
Reviews : 0
Comments : 0
Total votes : 0
Rating : -
Have : 0
Want : 0
Added by

Eagles
Last edited by

SludgeLeader
With Fear I Kiss the Burning Darkness Information
| | Title | Length | Rating | Votes |
| --- | --- | --- | --- | --- |
| 1. | Beyond Good and Evil | 2:42 | - | 0 |
| 2. | Raped by the Light of Christ | 3:00 | - | 0 |
| 3. | Break of Autumn | 5:00 | - | 0 |
| 4. | Non-Divine | 4:43 | - | 0 |
| 5. | Primal Breath | 7:23 | - | 0 |
| 6. | The Architects | 3:30 | - | 0 |
| 7. | Stardrowned | 4:02 | - | 0 |
| 8. | Blood of the Sunsets | 4:35 | - | 0 |
| 9. | The Burning Darkness | 2:18 | - | 0 |
| 10. | Ever-Opening Flower | 5:00 | - | 0 |
| 11. | Through the Red | 3:27 | - | 0 |
| 12. | The Nightmare Continues (Discharge cover) | 1:11 | - | 0 |
Tomas Lindberg

:

Vocals
Anders Björler

:

Guitars

Alf Svensson

:

Guitars

Jonas Björler

:

Bass

Adrian Erlandsson

:

Drums
Guest / session musicians
Matti Kärki

:

Backing Vocals
Production staff / artist
Fred Estby

:

Engineering

Tomas Skogsberg

:

Producer, Engineering

Eric Gunewall

:

Photography

Noel Summerville

:

Mastering

Dave Pybus

:

Layout

Åke Hodell

:

Cover Art

Lars Lindén

:

Engineering
Additional notes
Recorded at Sunlight Studios, Sweden, in April 1993.

Cover artwork was originally created by Åke Hodell and has the title "220 Volt Buddha."

"Through the Red" has a minute of silence and contains the hidden track "The Nightmare Continues", which is a Discharge cover.

Reissued in 1995 as a double CD with The Red in the Sky Is Ours through Peaceville.

Reissued on CD in 2001 by Peaceville and for Russia in 2002 by Soyuz.

Reissued in 2003 in a digipak with three bonus tracks:
12. Neverwhere (live) [6:04]
13. Beyond Good and Evil (live) [2:42]
14. The Architects (demo) [3:27]

Collector's Edition release by Peaceville on February 15, 2009, containing altered artwork, linter notes by Tomas Lindberg, and the bonus tracks from the 2003 reissue, in addition to a DVD containing a live show recorded in Groningen, Holland in 1992 during the band's European tour with My Dying Bride. Track list for the DVD is:

01. Raped By The Light Of Christ 3:49
02. Through Gardens Of Grief 4:48
03. Within 7:04
04. Souls Of The Evil Departed 4:28
05. Windows 4:33
06. Kingdom Gone 5:14
07. The Architects 4:28
08. The Red In The Sky Is Ours 3:19
09. The Nightmare Continues (Discharge cover) 1:01
Total running time: 38:44

A music video was made for the song "The Burning Darkness"