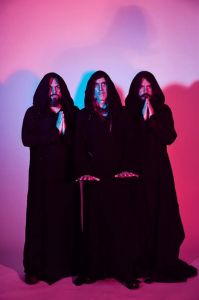 Sunn O)))
Greg Anderson

:

Bass, Guitars

(1998-)

Stephen O'Malley

:

Bass, Guitars

(1998-)
G. Stuart Dahlquist

:

Bass

Joe Preston

:

Bass, Electronics, Guitars, Programming
Releases : 39 Total votes : 1 Reviews : 0
Added by

SchoolMeal
Last edited by

SludgeLeader
Album title
Lyrics
Type
Released
Rating
Votes
Reviews

Grimmbunker ( )

(1997)

Demo

1997

-
0
0

The Grimmrobe Demos

(1999)

Demo

1999

-
0
0

ØØ Void

(2000)

Studio

2000-06-26

45
1
0

Flight of the Behemoth

(2002)

Studio

2002-01-22

-
0
0

White1

(2003)

Studio

2003-04-22

-
0
0

Veils It White

(2003)

EP

2003-09-04

-
0
0

Cro-Monolithic Remixes for an Iron Age

(2004)

EP

2004

-
0
0

Live White

(2004)

Live

2004

-
0
0

LXNDXN Subcamden Underworld Hallo'Ween 2003

(2004)

Live

2004

-
0
0

The Horn and the Spear (EMS Remix)

(2004)

Single

2004

-
0
0

Live Action Sampler 2004

(2004)

Compilation

2004

-
0
0

White2

(2004)

Studio

2004-06-29

-
0
0

Black One

(2005)

Studio

2005-10-17

-
0
0

Angel Coma

(2006)

Split

2006-03-06

-
0
0

Altar

(2006)

Studio

2006-10-31

-
0
0

Monoliths & Dimensions

(2009)

Studio

2009-05-18

-
0
0

The Iron Soul of Nothing

(2011)

Studio

2011-11-29

-
0
0

Terrestrials

(2014)

Studio

2014-02-04

-
0
0

Soused

(2014)

Studio

2014-10-15

-
0
0

2007.12.10, "Altar" Presentation with Boris, Kentish Town Forum, London, the United Kingdom

(2015)

Live

2015-06-11

-
0
0

2002.08.09, Blackbird, Portland, The United States

(2015)

Live

2015-06-11

-
0
0

2003.03.14, Room 710, Austin, The United States

(2015)

Live

2015-06-11

-
0
0

2003.04.02, Lintfabriek, Kontich, Belgium

(2015)

Live

2015-06-11

-
0
0

2003.08.29, Berbati's Pan, Portland, The United States

(2015)

Live

2015-06-11

-
0
0

2003.09.26, Empty Bottle, Chicago, The United States

(2015)

Live

2015-06-11

-
0
0

2003.09.27, Cactus Club, Milwaukee, The United States

(2015)

Live

2015-06-11

-
0
0

2004.01.01, The Loft, Brattleboro, The United States

(2015)

Live

2015-06-11

-
0
0

2004.01.02, Tonic, New York City, The United States

(2015)

Live

2015-06-11

-
0
0

2004.01.03, Khyber Pass, Philadelphia, The United States

(2015)

Live

2015-06-11

-
0
0

2004.07.02, The Detroit Arts Space, Detroit, The United States

(2015)

Live

2015-06-11

-
0
0

2004.07.03, Empty Bottle, Chicago, The United States

(2015)

Live

2015-06-11

-
0
0

2004.07.29, Knitting Factory, Brooklyn, The United States

(2015)

Live

2015-06-11

-
0
0

2004.10.16, Vox Populi, Philadelphia, The United States

(2015)

Live

2015-06-11

-
0
0

2004.12.03, The Spring & Brake, Belfast, The United Kingdom

(2015)

Live

2015-06-11

-
0
0

2004.12.07, Scala, London, The United Kingdom

(2015)

Live

2015-06-11

-
0
0

2005.03.03, Hi-Fi Bar, Melbourne, Australia

(2015)

Live

2015-06-11

-
0
0

Kannon

(2015)

Studio

2015-12-04

-
0
0

Life Metal

(2019)

Studio

2019-04-19

-
0
0

Pyroclasts

(2019)

Studio

2019-10-25

-
0
0
Additional notes
The band's name is simply pronounced "sun".
Before the band members moved to Los Angeles, the band was briefly known as Mars.

Sunn O))) is named after the Sunn amplifier brand, whose logo includes a circle next to the "SUNN" banner with waves heading off to the right (the band uses this logo in the cover art of many releases). In interviews, Stephen O'Malley stated that the name was also chosen as a play on the name of the band Earth (pioneers of drone music throughout the 1990s), reasoning that Sunn O))) revolved around Earth.

They call their style "Life Metal".