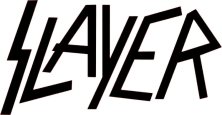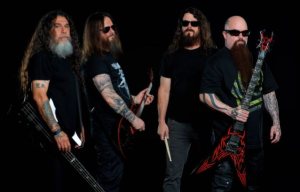 Slayer
Country

United States

Formed
1981,

Huntington Park, Los Angeles County, California

Genres

Thrash Metal

Labels
Metal Blade Records, Def Jam Recordings, American Recordings, Nuclear Blast
Years active
1981-present
Website

http://slayer.net
Kerry King

:

Guitars

(1981-present)

Tom Araya

:

Vocals, Bass

(1982-present)

Paul Bostaph

:

Drums

(1992-1996, 1997-2001, 2013-present)
Jeff Hanneman

:

Guitars

(1981-2013)

(R.I.P. 2013)

Dave Lombardo

:

Drums

(1982-1986, 1987-1992, 2001-2013)
Additional notes
Slayer was formed in 1981, by Los Angeles schoolmates and guitarists Jeff Hanneman and Kerry King. Tom Araya soon joined on bass and vocals, and drummer Dave Lombardo joined last in 1982. They played in a style reminiscent of early Exodus, influenced heavily by Iron Maiden and Judas Priest, before their attendance at a mid-1982 Metallica concert convinced them to play faster and heavier.

"Black Magic" was written in February 1983 and marked Slayer's definite venture into thrash metal. They secured a spot on the compilation appearance "Metal Massacre III" in 1983, contributing the speed metal song "Aggressive Perfector". They also recorded two demos in 1983, and became a popular live act in the Los Angeles area. (In 1983, Bob Gourley filled in for Dave for one gig. He later appeared in Dark Angel.) Their debut LP, Show no Mercy, was recorded in November, 1983.

"Show No Mercy" was released after Slayer appeared on Brian Slagel's "Metal Massacre III" compilation. Then came two EPs: "Haunting the Chapel" and "Live Undead" which was actually recorded in the studio in front of 50 of their closest friends.

After 1985's "Hell Awaits", Slayer were signed to Rick Rubin's Def Jam record label, better known for acts like Run DMC. This led to three studio albums, including the brutal "Reign in Blood", as well as a 1991 live double CD, "Decade of Aggression".

Dave Lombardo left the band in 1987 for several weeks, and was replaced for a few live gigs by Tony Scaglione (Whiplash), and then again left in 1992. Finally, in 1994, Paul Bostaph from Forbidden was brought in, and three more albums were recorded. Drummer Jon Dette was an official member of Slayer briefly in 1996.

Then, in 2001, Bostaph left to join Systematic, and Lombardo, who had been in Grip Inc. and Fantômas rejoined the band.

Interesting facts:

It's official that Slayer is the most covered metal band in the world aside from Metallica.

Kerry King played lead guitar on the Beastie Boys songs "Fight For Your Right" and "No Sleep Till Brooklyn", and appeared in the music video for the latter.

Tom Araya's brother John (Bloodcum) worked as an sound engineer for Slayer in their early days.

Gene Hoglan, the legendary drummer who has played in bands such as Dark Angel, Strapping Young Lad, and Death, used to be a Slayer lights man and roadie on the Show No Mercy tour, and was asked to be Dave Lombardo's drum tech on the Haunting North America tour ('84), but knocked it back to pursue his own music career. He even did backup vocals on the album Show No Mercy (the song Evil Has No Boundaries).

The band was never known as Dragonslayer. This has been refuted in countless interviews. And Slayer is not an acronym for 'Satan Laughs As You Eternally Rot', even though those words appeared on the first vinyl pressing of "Show No Mercy", between the grooves of the record (known as dead wax) and the paper label in the middle. DO NOT add false information!

The band covered Steppenwolf's "Born to be Wild" for the "NASCAR: Crank It Up" compilation in 2002.