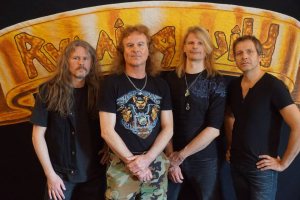 Running Wild
Rock 'n' Rolf

:

Vocals, Guitars

(1979-2009, 2011-)

, Bass

(2004)

Peter Jordan

:

Guitars

(2005-2009, 2011-)
Manfred Bünning

:

Pyro-technics

Matthias Kaufmann

:

Bass

(1979-1982)

Hasche

:

Drums

(1979-1987)

Uwe Bendig

:

Guitars

(1979-1982)

Stephan

:

Bass

(1982-1987)

Preacher

:

Guitars

(1982-1985)

Majk Moti

:

Guitars

(1985-1990)

Jens Becker

:

Bass

(1987-1992)

Stefan Schwarzmann

:

Drums

(1987-1988, 1992-1993)

Iain Finlay

:

Drums

(1988-1989)

AC

:

Drums

(1990-1992)

Axel Morgan

:

Guitars

(1990-1993)

Thomas "Bodo" Smuszynski

:

Bass

(1992-2000)

Jörg Michael

:

Drums

(1994-1998)

Thilo Hermann

:

Guitars

(1994-2001)

Angelo Sasso

:

Drums

(1999-2002)

(R.I.P. 2007)

Peter Pichl

:

Bass

(2001-2008)

Matthias "Metalmachine" Liebetruth

:

Drums

(2002-2009)
Releases : 20 Total votes : 0 Reviews : 0
Added by

Eagles
Last edited by

SludgeLeader
Additional notes
Formed in 1976 as Granite Hearts, the band agreed to change it to Running Wild in 1979 - the name was taken from the Judas Priest song with the same name.

Granite Hearts line up:
Rolf Kasparek - Vocals, Guitars
Jörg Schwarz, Carsten David, Matthias Kaufmann - Bass
Uwe Bendig - Guitars
Michael Hoffmann, Hasche - Drums

On April 17th, 2009 Kasparek announced that he was bringing Running Wild to an end. The last show was at Wacken Open Air, July 30th, 2009. Then, on October 21th, 2011 the official website published information that Running Wild had reformed.

It's generally suspected that a drum computer was used on both the Victory and The Brotherhood albums with Angelo Sasso being a fictional name used in an attempt to cover this up. This is denied by Rolf Kasparek who claims that Angelo Sasso is a pseudonym used by a friend of his who didn't want to be credited under his real name. This became sort of a running gag in the German metal scene with other bands crediting their drums to Angelo Sasso (see: Chalice of Blood, Kings of völlige Durchness), which literally means "Angel Stone/Rock" in Italian. Moreover, in the two Running Wild releases after their break-up and reforming, namely Shadowmaker and Resilient, no drummer or bass player is officially credited.

The hellhound pictured on the early Running Wild releases, and again on Resilient, is named "Adrian" after the "Adrian S.O.S." track on Gates to Purgatory.