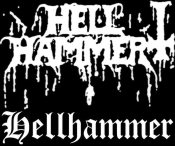 Hellhammer
Bruce "Denial Fiend" Day

:

Drums

(1982-1984)

Tom "Satanic Slaughter" G. Warrior

:

Vocals, Guitars

(1982-1984)

Martin "Slayed Necros" E. Ain

:

Bass

(1983-1984)
Steve "Savage Damage" Warrior

:

Bass, Vocals

(1982-1983)

Pete Stratton

:

Drums

(1982)

Mike "Grim Decapitator" Owens

:

Bass

(1983)

Steve "Evoked Damnator" Priestly

:

Bass

(1983)

, Drums

(1983)
Releases : 7 Total votes : 0 Reviews : 0
Added by

realemopolice
Last edited by

realemopolice
Additional notes
Formed in May 1982 under the name Hammerhead, which was soon changed to Hellhammer.

Hellhammer are widely credited as pioneers of extreme metal (black metal in particular) along with Venom, Bathory and a few others. Tom G Warrior and Martin Ain formed Celtic Frost the day after Hellhammer disbanded.

Hellhammer had two more short-term bassists that time has since forgotten in 1983 (Mike Owens has previously been listed as a drummer, Hellhammer's new website credits him as a bassist). Despite the "Warrior brothers" thing, Steve and Tom are unrelated. Steve was originally a roadie for Tom's previous band, Grave Hill.

The last thing planned with Hellhammer was a full-length called To Mega Therion in mid-1984 with new tracks called "Beyond the Beyond", "Ride on the Wings of Sabbath", "Defeat of the Serpent", "Demon Entrails" and "Phallical Tantrum" among others. The band split up before the songwriting process was finished, and none of these tracks were ever formally recorded. However, Tom Warrior and Martin Eric Ain used the title To Mega Therion for the first full-length Celtic Frost album.