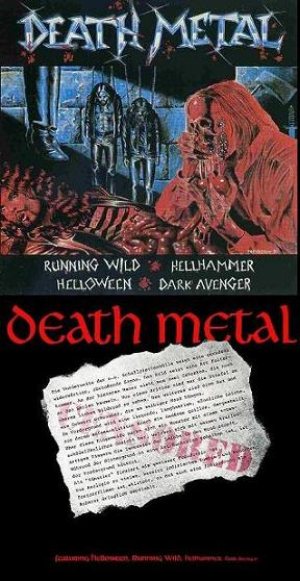 Death Metal
Reviews : 0
Comments : 0
Total votes : 0
Rating : -
Have : 0
Want : 0
Added by

realemopolice
Last edited by

Eagles
Title
Length
Rating
Votes
Side A
1.

Running Wild - Iron Heads

3:38
-
0
2.

Running Wild - Bones to Ashes

5:07
-
0
3.

Hellhammer - Revelations of Doom

2:46
-
0
4.

Hellhammer - Messiah

4:30
-
0
Side B
5.

Dark Avenger - Black Fairies

3:33
-
0
6.

Dark Avenger - Lords of the Night

3:47
-
0
7.

Helloween - Oernst of Life

4:41
-
0
8.

Helloween - Metal Invaders

4:27
-
0
Additional notes
Helloween released their contribution as a demo tape, as did Running Wild. It is unknown how much circulation they got, or how "official" the releases were.

The Running Wild tracks appear on the CD re-release of "Branded and Exiled", and on the 1995 LP "Masquerade" (tracks re-recorded in 1999).

Hellhammer tracks "Revelations of Doom" and "Messiah" featured originally on this sampler were recorded in the same sessions of the "Apocalyptic Raids" EP. Later they were included in many later LP and all CD versions.

The "Death Metal" sampler was originally released in October 1985 with the top cover, right, and banned in Germany. It was re-released with a censored cover (bottom).
Both versions are very rare LPs.
In September 2010 the record was removed from the list of banned media in Germany.