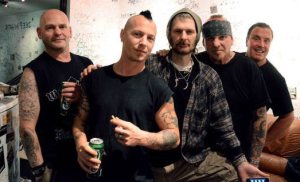 Discharge
Rainy

:

Bass

(1977-1987, 2001-present)

, Guitars

(1977)

Tezz

:

Drums

(1977-1980, 2001-2006)

, Vocals

(1977)

, Guitars

(2014-present)

Bones

:

Guitars

(1977-1982, 2001-present)

Dave Caution

:

Drums

(2006-present)

JJ Janiak

:

Vocals

(2014-present)
Igel Bamford

:

Bass

(1977, 2001)

Akko

:

Drums

(1977)

Cal

:

Vocals

(1977-1987, 1991-1999, 2001-2003)

Ivan Rivera

:

Vocals

(1977)

Bambi

:

Drums

(1980)

Keith Haynes

:

Drums

(1981)

Garry Moloney

:

Drums

(1981-1984, 1986-1987, 1991-1995)

Pooch

:

Guitars

(1983-1984)

Micky Gibson

:

Drums

(1984-1986)

Nick Heymaker

:

Drums

(1985)

The Mole

:

Guitars

(1985)

Fish

:

Guitars

(1986-1987)

Rocky Shades

:

Vocals

(1987)

Jake

:

Bass

(1991-1995)

Andy Green

:

Guitars

(1991-1995)

Nick Bushell

:

Bass

(1995-1999)

The Torn

:

Guitars

(1995-1999)

Rat

:

Vocals

(2003-2014)
Releases : 40 Total votes : 0 Reviews : 0
Added by

SludgeLeader
Last edited by

SludgeLeader
Additional notes
Though still best known as seminal hardcore pioneers (of the infamous D-beat style punk), Discharge has been playing heavy metal for almost 20 years. Whilst past albums were hardcore punk in the early 80's, the release of "Grave New World" in 1986 showed a very heavy/glam metal sound to Discharge which shocked many hardcore fans when released, eventually leading the band to a small hiatus until 1990.

The original line-up reunited in 2000 and recorded an eponymous album that revives some of the intensity of their early days, without sacrificing the metal leanings.

Some classify Discharge as the foundation of grindcore influence, where many future grind/death metal bands consider Discharge their major influence. Such bands like Napalm Death and S.O.B. were heavily influenced by Discharge and really came together because of being influenced by them. Also bands like Hellhammer/Celtic Frost, Bathory and Sepultura has mention the hardcore punk era Discharge as one of their main influences.

Terry and Tony Roberts are brothers.