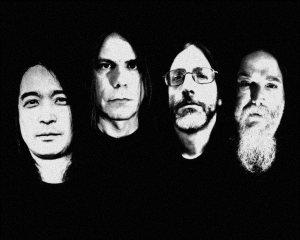 Church of Misery
Tatsu Mikami

:

Bass

(1995-)
Hideki Shimizu

:

Drums

(1995-2000)

Tomohiro Nishimura

:

Guitars

(1995-2001)

Kazuhiro Asaeda

:

Vocals

(1995)

Nobukazu Chow

:

Vocals

(1996-2000)

Junji Narita

:

Drums

(2000-2014)

Yoshiaki Negishi

:

Vocals

(2000-2004, 2009-2011)

Osamu Hamada

:

Guitars

(2001)

Takenori Hoshi

:

Guitars

(2002-2006)

Hideki Fukasawa

:

Vocals, Synthesizer

(2004-2009, 2011-2014)

Tom Sutton

:

Guitars

(2006-2010)

Kensuke Suto

:

Guitars

(2010-2011)

Ikuma Kawabe

:

Guitars

(2012-2014)
Releases : 18 Total votes : 0 Reviews : 0
Added by

SludgeLeader
Last edited by

SludgeLeader
Church of Misery Discography
Additional notes
Vol 1 was supposed to be Church of Misery's first album. When the band decided that they wanted to stick to writing solely about real-life serial killers and murderers, they abandoned it, but a bootleg of the album was made in 1997. It was not officially released until a decade later in 2007.

Trivia: statement on their album Master of Brutality:
"We hate trend.
We hate corporate attitude.
We hate the word "Stoner".
Death to false Stoners.
Let there be Doom!!"