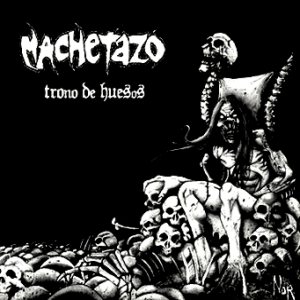 Trono de huesos
Artist
Type
Studio Full-length
Released

2002-05-06

Genres

Death Metal

,

Grindcore

Labels
Razorback
Length
31:34
Reviews : 0
Comments : 0
Total votes : 0
Rating : -
Have : 0
Want : 0
Added by

SludgeLeader
Trono de huesos Information
| | Title | Length | Rating | Votes |
| --- | --- | --- | --- | --- |
| 1. | Banquete funerario | 2:15 | - | 0 |
| 2. | Garrote vil | 2:00 | - | 0 |
| 3. | Enterradas en el jardín | 0:49 | - | 0 |
| 4. | Un vestido de pellejo humano | 2:11 | - | 0 |
| 5. | Purificación a través del dolor | 2:21 | - | 0 |
| 6. | La flema | 2:34 | - | 0 |
| 7. | Engendro | 1:13 | - | 0 |
| 8. | Trono de huesos | 2:59 | - | 0 |
| 9. | Bolsas con sangre | 0:48 | - | 0 |
| 10. | Yo fui un canibal adolescente | 2:17 | - | 0 |
| 11. | Lepra | 2:28 | - | 0 |
| 12. | Ataque simio | 1:37 | - | 0 |
| 13. | Ace of Spades (Motörhead cover) | 2:34 | - | 0 |
| 14. | Los cuentos del muñón gangrenoso III | 5:28 | - | 0 |
Dopi

:

Drums, Vocals, Bass

Rober Bustabad

:

Guitars, Bass
Guest / session musicians
Carlos Cadáver

:

Vocals (on "Engendro")

Paco Liaño

:

Lead Guitar (on "Ace of Spades")
Production staff / artist
Paco the Maggot

:

Mixing, Mastering

Nor Venagruesa

:

Cover Art

Chris Reifert

:

Logo
Additional notes
Cat.-Nr. RR11

Recorded in Treboada Studios between December 2001 and January 2002.

Pressings:
- CD by Razorback Records (3000 copies) in 2002.
- Tape by Witchhammer Productions (500 copies).
- LP by Throne Records (200 copies in transparent vinyl, 800 in black) in 2003.

The vinyl edition features an extra track: "Suppuration" (Carcass cover). This track has already appeared on the "Requiems of Revulsion, a tribute to Carcass" compilation by Deathvomit Records.

Re-released by Doomentia Records with a different artwork on a digipack CD, black LP (400 copies) and splatter red LP (100 copies).