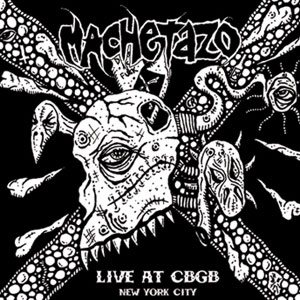 Live at CBGB - New York City
Reviews : 0
Comments : 0
Total votes : 0
Rating : -
Have : 0
Want : 0
Added by

SludgeLeader
Live at CBGB - New York City Information
| | Title | Length | Rating | Votes |
| --- | --- | --- | --- | --- |
| 1. | El Enjambre Asesino | 2:01 | - | 0 |
| 2. | Garrote Vil | 2:12 | - | 0 |
| 3. | Yo Fui Un Canibal Adolescente | 2:04 | - | 0 |
| 4. | Adoremos Al Cráneo Cornudo | 1:01 | - | 0 |
| 5. | La Flema | 3:00 | - | 0 |
| 6. | Sacrificio | 2:34 | - | 0 |
| 7. | Cripta | 2:13 | - | 0 |
| 8. | Petrificado | 1:15 | - | 0 |
| 9. | El Necronomicon Templario | 1:17 | - | 0 |
| 10. | Un Vestido De Pellejo Humano | 2:28 | - | 0 |
| 11. | Niebla Fúnebre | 3:40 | - | 0 |
| 12. | Ataque Simio | 1:43 | - | 0 |
| 13. | Torso | 1:30 | - | 0 |
| 14. | Potro De Tortura | 2:18 | - | 0 |
| 15. | Ace Of Spades (Motörhead cover) | 2:54 | - | 0 |
| 16. | Trono De Huesos | 3:41 | - | 0 |
| 17. | Black Metal (Venom cover) | 3:31 | - | 0 |
Dopi

:

Drums, Vocals

Rober

:

Guitars

Carlos Cadáver

:

Bass, Backing Vocals
Production staff / artist
Chris Reifert

:

Cover Art

Fade Kainer

:

Mixing

Paco Liaño

:

Mastering
Additional notes
Live recording at the CBGB club at NYC in May 27th 2006.

Originally released as a 12" limited vinyl:
Regular Edition limited to 250 copies.
Special Edition limited to 100 copies and includes bonus 7" with 2 tracks recorded live at the studio:
Side A: Alucinaciones Blasfemas
Side B: Éxtasis Nauseabundo

Re-released on CD in 2013 by Selfmadegod Records.