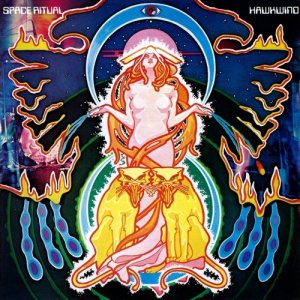 Space Ritual
| | |
| --- | --- |
| Artist | |
| Type | Live album |
| Released | 1973-05-11 |
| Genres | Space Rock |
| Labels | United Artists Records |
| Length | 1:31:02 |
Reviews : 0
Comments : 0
Total votes : 0
Rating : -
Have : 0
Want : 0
Added by

Eagles
Last edited by

SludgeLeader
Title
Length
Rating
Votes
Disc 1
1 Earth Calling (1:46)
2 Born to Go (9:56)
3 Down Through the Night (6:16)
4 Awakening (1:32)
5 Lord of Light (7:21)
6 The Black Corridor (1:51)
7 Space Is Deep (8:13)
8 Electronic No. 1 (2:26)
Disc 2
1 Orgone Accumulator (9:59)
2 Upside Down (2:43)
3 10 Seconds of Forever (2:05)
4 Brainstorm (9:20)
5 7 by 7 (9:13)
6 Sonic Attack (2:54)
7 Time We Left This World Today (5:47)
8 Master of the Universe (7:37)
9 Welcome to the Future (2:03)
Robert Calvert

:

Vocals

Dave Brock

:

Guitar, Vocals

Lemmy

:

Bass, Vocals

Simon King

:

Drums

Nik Turner

:

Saxophone, Flute, Vocals

Del Dettmar

:

Synthesizer
Production staff / artist
Dik Mik

:

Audio Generator, Electronics

Vic Maile

:

Recording, Mixing

Anton Matthews

:

Mixing
Additional notes
Recorded at Liverpool Stadium on 22 December 1972 and at Brixton Sundown 30 December 1972.

Differences between versions:
All iterations of Space Ritual appear to come from the same sets of concerts. The earlier iterations such as original Space Ritual release as well as releases named Volume 1 and Volume 2 appear to have been live recordings with studio overdubs.

Later iterations such as those titled Space Ritual At Sundown Vol1/2 and 1985 release Space Ritual Vol.2 appear to contain just live recordings without any studio overdubs.
The Back on Black vinyl release titled Space Ritual Vol 1 contains the first disc of the remastered 2007 CD version while Vol 2 contains the second disc.