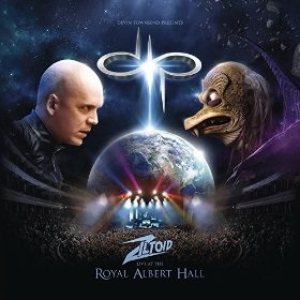 Devin Townsend Presents: Ziltoid Live at the Royal Albert Hall
Reviews : 0
Comments : 0
Total votes : 0
Rating : -
Have : 0
Want : 0
Added by

SludgeLeader
Devin Townsend Presents: Ziltoid Live at the Royal Albert Hall Information
Title
Length
Rating
Votes
Disc 1
1.

Z²

3:46
-
0
2.

From Sleep Awake

3:47
-
0
3.

Ziltoidian Empire

5:50
-
0
4.

War Princess

8:57
-
0
5.

Deathray

4:43
-
0
6.

March of the Poozers

6:30
-
0
7.

Wandering Eye

3:40
-
0
8.

Earth

7:38
-
0
9.

Ziltoid Goes Home

6:38
-
0
10.

Through the Wormhole

3:37
-
0
11.

Dimension Z

8:10
-
0
Disc 2
1.

Namaste

3:55
-
0
2.

Night

4:58
-
0
3.

Deadhead

7:48
-
0
4.

Earth Day

9:36
-
0
5.

Christeen

5:05
-
0
6.

Supercrush!

5:26
-
0
7.

Kingdom

7:40
-
0
8.

Lucky Animals

3:31
-
0
Disc 3
1.

Heartwave

5:39
-
0
2.

Funeral

7:20
-
0
3.

Bastard

10:45
-
0
4.

The Death of Music

10:23
-
0
5.

Universal Flame

15:19
-
0
Devin Townsend

:

Vocals, Guitars

Dave Young

:

Guitars

Brian Waddell

:

Bass

Ryan van Poederooyen

:

Drums

Mike St. Jean

:

Keyboards
Guest / session musicians
Chris Jericho

:

Vocals

Dominique Lenore Persi

:

Vocals

Bill Courage

:

Narrator

Jean Savoie

:

Bass (Disc 3-Track 1)
Production staff / artist
Paul M Green

:

Film Director

Andy Farrow

:

Executive Producer
Devin Townsend

:

Executive Producer
Additional notes
Sticker:
"Limited Edition Artbook
Incl. 3 CDs, 2 DVDs and 1 BluRay
Devin Townsend's spectacular Ziltoidian extravaganza live at the Royal Albert Hall! The set includes the entire 'Z²' album front to back as well as a full second set of songs spanning most of Devin's career!
Incl. extensive behind-the scenes fottage and full documentary!"
Devin Townsend Project Discography