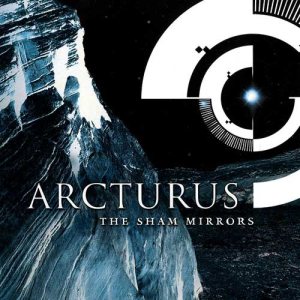 Added by

Eagles
Last edited by

SludgeLeader
The Sham Mirrors Information
| | Title | Length | Rating | Votes |
| --- | --- | --- | --- | --- |
| 1. | Kinetic | 5:26 | 90 | 1 |
| 2. | Nightmare Heaven | 6:05 | 90 | 1 |
| 3. | Ad Absurdum | 6:48 | 80 | 1 |
| 4. | Collapse Generation | 4:13 | 95 | 1 |
| 5. | Star-Crossed | 5:01 | 95 | 1 |
| 6. | Radical Cut | 5:08 | 85 | 1 |
| 7. | For to End Yet Again | 10:33 | 85 | 1 |
Trickster G. Rex

:

Vocals

Sverd

:

Keyboards

Knut Magne Valle

:

Guitars

Dag F. Gravem

:

Bass

Hellhammer

:

Drums
Guest / session musicians
Ihsahn

:

Vocals (track 6)

Mathias Eick

:

Ubu's Horn (tracks 3, 4, 6)

Hugh Stephen James Mingay

:

Bass (track 6)
Production staff / artist
Knut Magne Valle

:

Producer, Engineering

Kristoffer Rygg

:

Producer, Photography, Engineering

Sverd

:

Engineering

Marius Renberg

:

Photography, Graphic Design

Tore Ylwizaker

:

Mixing

Kim Sølve

:

Photography, Graphic Design

Tom La Bomba

:

Mastering
Additional notes
Recorded in various spaces, times and formats from 2000 to 2002.
Mixed by Tore Ylwizaker at Ambassaden, Jan. 2002.
Mastered at Strype Audio.

The title for track 7 is lifted from Samuel Beckett.
Sleeve quotes from the pre-surrealist play 'Ubu the King' by Alfred Jarry.

Distributed by The End Records in U.S.

Released on tape by Mystic Production (MYST 307).
Reviewer :

Eagles
(

90

/

100

)
Arcturus의 세번째 정규작 The Sham Mirrors은 공포의 오페라를 연상시키는 난해하고 음산한 분위기를 지녔던 전작 La Masquerade Infernale과 웅장한 우주적인 심포닉 블랙메틀을 들려주었던 데뷔작 Aspera Hiems Symfonia을 적절히 섞어놓은 듯한 음악을 구사한다. 청자의 혼을 쏙 빼놓는 신비로운 키보드사운드가 압권인 앨범으로 변화무쌍한 연주를 따라 화려한 색채로 수놓는다. 멤버는 보컬의 Garm, 기타의 Knut, 키보드의 Sverd, 드럼의 Hellhammer등 기존의 4인과 새로운 기타리스트 Dag F. Gravem로 5인 체제이며 Emperor의 Ihsahn이 게스트 뮤지션으로 참여하기도 하였다.

Best Track : Collapse Generation , Star-Crossed