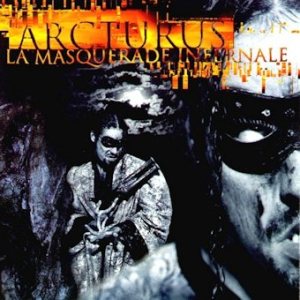 Added by

Eagles
Last edited by

SludgeLeader
La Masquerade Infernale Information
| | Title | Length | Rating | Votes |
| --- | --- | --- | --- | --- |
| 1. | Master of Disguise | 6:42 | 90 | 1 |
| 2. | Ad Astra | 7:40 | 95 | 1 |
| 3. | The Chaos Path | 5:33 | 95 | 2 |
| 4. | La Masquerade Infernale | 2:00 | 80 | 1 |
| 5. | Alone | 4:39 | 85 | 1 |
| 6. | The Throne of Tragedy | 6:33 | 80 | 1 |
| 7. | Painting My Horror | 5:59 | 85 | 1 |
| 8. | Of Nails and Sinners | 6:06 | 85 | 1 |
G. Wolf

:

Vocals, Samples, Electronics

Knut M. Valle

:

Guitars

Steinar Sverd Johnsen

:

Keyboards

Hugh Steven James Mingay

:

Bass

Jan Axel Von Blomberg

:

Drums
Guest / session musicians
Svein Haugen

:

Double Bass

Vegard Johnsen

:

Violin

Dorthe Dreier

:

Viola

Simen Hestnæs

:

Vocals, Songwriting (track 3), Backing Vocals (tracks 1, 7)

Carl August Tidemann

:

Lead Guitar (tracks 2, 8)

Hans Josef Groh

:

Cello

Idun Felberg

:

Cornet (track 2)

Erik Olivier Lancelot

:

Flute (track 2)
Production staff / artist
Børge Finstad

:

Mixing

Pål Klåstad

:

Technician, Engineering (strings)

Jørn H. Sværen

:

Lyrics, Translation (track 6)

Gandalf Stryke

:

Mastering

Knut Magne Valle

:

Producer

Marius Bodin

:

Engineering (Drums)

G. Wolf

:

Producer, Mastering
Additional notes
Recorded at Jester Studio between December 1996 & May 1997, excluding the drum takes, which were engineered between 15th & 20th of December 1996 at Fløystøy, and string takes, which took place on 1st of May 1997 at Endless.
Mixed between 2nd & 12th of June 1997 at Major Studio.
Mastered at Strype Laboratories.

CD is actually 01:27 longer because of the hidden pretrack on song #1.
Lyrics of 'Alone' are taken from a poem by Edgar Allan Poe.

Re-released in 2003 by Candlelight Records. This release is remixed and does not contain the hidden track.

The Throne of Tragedy is based on the poem «Tragediens Trone» by Jørn Henrik Sværen, is translated to English by the undersigned, and hereby dedicated to Kristoffer Garm Rygg.
La Masquerade Infernale Reviews
Reviewer :

Eagles
(

85

/

100

)
Arcturus는 Black Metal계의 슈퍼 프로젝트밴드로, 주작곡자인 Sverd, 메이헴의 Hellhammer, 울버의 Garm가 주축이 되어 있다. 1991년에 7인치 EP앨범 My Angel, 1993년에 프로모앨범 Constellation, 1996년에 정규 데뷔앨범 Aspera Hiems Symfonia를 발표한 바 있다. 국내에 라이센스로 소개되기도 한 이들의 두 번째 앨범 La Masquerade Infernale으로 심포닉하고 서사적인 분위기가 지배적이었던 전작에 비해 마치 한 편의 오페라는 감상하는 느낌이며 보다 난해한 구성을 지니고 있다. 음악적으로 충실한 앨범.

Best Track : Ad Astra