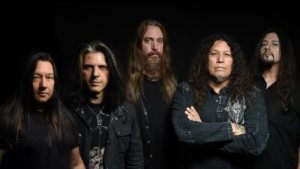 Testament
Chuck Billy

:

Vocals

(1986-)

Eric Peterson

:

Guitar

(1986-)

Alex Skolnick

:

Guitar

(1986-1993, 2001, 2005-)

Gene Hoglan

:

Drums

(1996-1997, 2011, 2012-)

Steve DiGiorgio

:

Bass

(1998-2004, 2014-)
Louie Clemente

:

Drums

(1986-1993, 2005)

Paul Bostaph

:

Drums

(1993, 2004-2005, 2006, 2007-2011)

John Tempesta

:

Drums

(1993-1994, 2005)

James Murphy

:

Guitars

(1993-1996, 1998-2000)

Glen Alvelais

:

Guitars

(1993, 1997-1998)

Jon Dette

:

Drums

(1994-1995, 1997, 2000)

Chris Kontos

:

Drums

(1995)

Derrick Ramirez

:

Bass

(1997-1998)

Dave Lombardo

:

Drums

(1998-1999)

Jon Allen

:

Drums

(1999-2004)

Steve Smyth

:

Guitars

(2000-2004)

Steve "Zetro" Souza

:

Vocals

(2001)

Metal Mike Chlasciak

:

Guitars

(2002)

Greg Christian

:

Bass

(1986-1996, 2004-2014)

Paul Bostaph

:

Drums

(1993, 2004-2005, 2006, 2007-2011)
Releases : 31 Total votes : 5 Reviews : 2
Added by

Eagles
Last edited by

SludgeLeader
Additional notes
The band was known as Legacy from 1983-1986.

Steve "Zetro" Souza from Exodus was the lead singer from 1985-1986, and he has done vocals for Testament at some points. There was precisely one show played as Legacy with Chuck Billy on vocals, in July 1986.

Although still named Legacy at the time of recording, they couldn't relase the album under that name, as there was a jazz band who had registered it. Billy Milano suggested they name themselves Testament, and they liked it. They used their old name as the album title.

Testament was one of the early thrash metal bands to sign to a major label, having signed to Atlantic in 1986.

Greg Christian had reportedly auditioned for bass or was asked to join Metallica following Cliff Burton's death. He was among the few who were considered for the role.

In 2001, Chuck Billy was diagnosed with germ cell seminoma; a rare kind of cancer in Chuck's case because this is usually in the testicular region of a man's body, but Chuck had in his chest region near his heart. He had been undergoing numerous treatments and survived the cancer. Festivals and concerts had been held in helping raise money for Chuck's sickness. He has since been fully recovered.