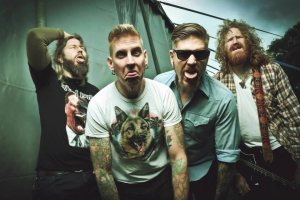 Mastodon
Troy Sanders

:

Bass, Keyboards, Vocals

(1999-)

Brann Dailor

:

Drums

(1999-)

, Vocals

(2009-)

Brent Hinds

:

Guitars, Vocals

(1999-)

Bill Kelliher

:

Guitars, Backing Vocals

(1999-)
Eric Saner

:

Vocals

(1999-2000)
Releases : 12 Total votes : 2 Reviews : 0
Added by

Eagles
Last edited by

SludgeLeader
Additional notes
Brann Dailor and Bill Kelliher met the other members at a High on Fire show.

Founded as a five-piece with Eric Saner on vocals, who left the band just before going on tour. The rest of the band members completed the tour sharing vocal duties, and eventually decided to continue as a four-piece.

Scott Kelly from Neurosis has appeared as a guest vocalist on all of Mastodon's full length albums, since "Leviathan".

They are featured on the Melvins tribute playing the song "The Bit," and also on Kerrang! magazine's tribute to Metallica's "Master of Puppets", playing "Orion".

Appear on the soundtrack for Aqua Teen Hunger Force Colon Movie Film for Theaters with the song 'Cut You Up with a Linoleum Knife'.

Appeared in the HBO television series Game Of Thrones (episode 5.8, "Hardhome") and contributed the song 'White Walker' to the "Catch the Throne, vol.2" mixtape released online to promote the show's fifth season.

Mastodon consider each of their full length albums to have a different general theme that doesn't reach as far as a full concept. Their logo and artwork for each album represents one of the four elements. "Remission" represents fire, "Leviathan" represents water, "Blood Mountain" represents earth and "Crack the Skye" represents air (or ether). Additionally, the symbol over their logo changes from album to album.