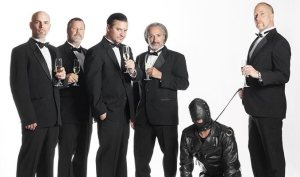 Faith No More
a.k.a.
ex-Sharp Young Man, ex-Faith No Man
Country

United States

Formed
1982,

San Francisco, California

Genres

Avant-garde Metal

,

Alternative Metal

,

Heavy Metal

Labels
Mordam, Slash Records, Ipecac Recordings, Reclamation!
Years active
1979-1980 (as Sharp Young Men), 1980-1982 (as Faith No Man), 1982-1998, 2009-present
Website

http://www.fnm.com/
Mike Patton

:

Vocals

(1988-1998, 2009-present)

Jon Hudson

:

Guitars

(1996-1998, 2009-present)

Billy Gould

:

Bass

(1981-1998, 2009-present)

Mike "Puffy" Bordin

:

Drums

(1981-1998, 2009-present)

Roddy Bottum

:

Keyboards

(1982-1998, 2009-present)
Mike "The Man" Morris

:

Guitars, Vocals

(1981-1983)

Wade Worthington

:

Keyboards

(1981)

Scott Colbertson

:

Guitars

(1983)

Desmond Trial

:

Guitars

(1983)

Mark Stewart

:

Guitars

(1983)

Jim Martin

:

Guitars

(1983-1993)

Jake Crucifix

:

Guitars

(1983)

Joe "Pop-o-Pie" Pye

:

Vocals

(1983)

Courtney Love

:

Vocals

(1983)

Paula Frazer

:

Vocals

(1983)

Walter

:

Vocals

(1983)

Mark Bowen

:

Guitars

(1984-1985)

Chuck Mosley

:

Vocals

(1984-1988)

Trey Spruance

:

Guitars

(1993-1995)

Dean Menta

:

Guitars

(1995-1996)
Releases : 50 Total votes : 0 Reviews : 0
Added by

SludgeLeader
Last edited by

SludgeLeader
Faith No More Discography
Additional notes
There was an earlier incarnation of Faith No More that existed in 1979-1980. The lineup remains unknown, but back then, they were known as Sharp Young Man, who changed their name to Faith No Man before finally settling with their current name.

Faith No More were split-up from April 1998 to February 2009. After spending 2009 and 2010 touring the world, they played their final reunion concert at Estadio Bicentenario de La Florida in Santiago, Chile on December 5, 2010. However, they had continued to play live shows since then. The band last toured in 2012, before going on hiatus and resurfacing in 2014.

Many consider Faith No More to be the fathers of the "alternative metal" genre. Their popularity grew with the 1989 now-legendary album "The Real Thing" containing their well-known hit "Epic." The band remains a dominant influence on the genre they helped create.
See also Alice in Chains, Helmet, Melvins, Soundgarden, Fear Factory, and White Zombie

Then-guitarist Jim Martin briefly appeared in the 1991 comedy science fiction film "Bill & Ted's Bogus Journey" (starring Keanu Reeves, Alex Winter and George Carlin), a sequel to "Excellent Adventure" the original Bill & Ted. Faith No More also contributed a song called "The Perfect Crime" to the soundtrack of "Bogus Journey."