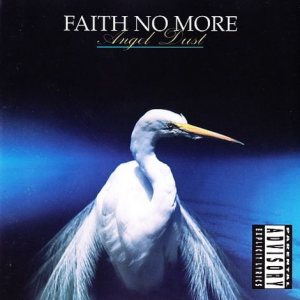 Angel Dust
Reviews : 0
Comments : 0
Total votes : 0
Rating : -
Have : 0
Want : 0
Added by

SludgeLeader
| | Title | Length | Rating | Votes |
| --- | --- | --- | --- | --- |
| 1. | Land of Sunshine | 3:44 | - | 0 |
| 2. | Caffeine | 4:28 | - | 0 |
| 3. | Midlife Crisis | 4:23 | - | 0 |
| 4. | RV | 3:43 | - | 0 |
| 5. | Smaller and Smaller | 5:11 | - | 0 |
| 6. | Everything's Ruined | 4:33 | - | 0 |
| 7. | Malpractice | 4:02 | - | 0 |
| 8. | Kindergarten | 4:31 | - | 0 |
| 9. | Be Aggressive | 3:42 | - | 0 |
| 10. | A Small Victory | 4:57 | - | 0 |
| 11. | Crack Hitler | 4:39 | - | 0 |
| 12. | Jizzlobber | 6:38 | - | 0 |
| 13. | Midnight Cowboy (Movie theme cover) | 4:12 | - | 0 |
Mike Patton

:

Vocals

Jim Martin

:

Guitars

Billy Gould

:

Bass

Mike Bordin

:

Drums

Roddy Bottum

:

Keyboards
Production staff / artist
Ross Halfin

:

Photography

Mark Burstein

:

Photography

Werner Krutein

:

Photography

Nikki Tafrallin

:

Engineering

Craig Doubet

:

Engineering

Gibbs Chapman

:

Engineering

Lindsay Valentine

:

Engineering

Adam Munoz

:

Engineering

David Bryson

:

Mixing

John Golden

:

Mastering

Matt Wallace

:

Producer, Engineering, Mixing

Kim Champagne

:

Art Direction
Additional notes
Recorded at Coast Recorders and Brilliant Studios, San Francisco.
Mixed at Scream Studios, Studio City, CA.
Mastered at K-Disc.

"Midnight Cowboy" is an instrumental cover of the theme from the movie of the same name.

Re-releases contain "Easy" (3:06) as a bonus track.
Produced by Matt Wallace and Faith No More
(c) 1992 Slash Records
("Easy", is a Commodores Coversong)

Japan version contains the bonus track "As the Worm Turns" (2:38)

Released as a DLP with the following tracklisting:

Disc 1:
1. Land of Sunshine
2. Caffeine
3. Midlife Crisis
4. RV
5. Everything's Ruined
6. Malpractice

7. Kindergarten
8. Be Aggressive
9. A Small Victory
10. Jizzlobber
11. Smaller and Smaller

Disc 2:
1. Midlife Crisis (Scream Mix)

2. Crack Hitler
3. Midnight Cowboy (Movie theme cover)

Also released as an Australian "tour souvenir" version coming with a bonus-CD containing live tracks:
1. Easy (Live) (03:06)
2. Be Aggressive (Live) (03:42)
3. Kindergarten (Live) (04:44)
4. Mark Bowen (Live) (03:16)

The packaging lists these performances as being from a free concert in Munich, Germany, 9.11.92. It has been determined that they are more likely from Grugahalle, Essen, Germany, 9.11.92.
Faith No More Discography