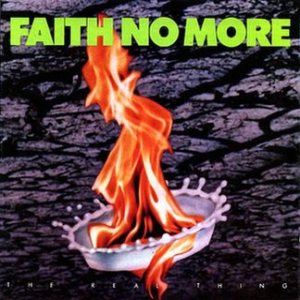 The Real Thing
Reviews : 0
Comments : 0
Total votes : 0
Rating : -
Have : 0
Want : 0
Added by

SludgeLeader
The Real Thing Information
| | Title | Length | Rating | Votes |
| --- | --- | --- | --- | --- |
| 1. | From Out of Nowhere | 3:22 | 95 | 1 |
| 2. | Epic | 4:54 | 95 | 1 |
| 3. | Falling to Pieces | 5:16 | - | 0 |
| 4. | Surprise! You're Dead! | 2:27 | - | 0 |
| 5. | Zombie Eaters | 6:00 | - | 0 |
| 6. | The Real Thing | 8:13 | - | 0 |
| 7. | Underwater Love | 3:52 | - | 0 |
| 8. | The Morning After | 3:43 | - | 0 |
| 9. | Woodpecker from Mars | 5:40 | - | 0 |
| 10. | War Pigs (Black Sabbath cover) | 7:44 | - | 0 |
| 11. | Edge of the World | 4:10 | - | 0 |
Mike Patton

:

Vocals

Jim Martin

:

Guitars

Billy Gould

:

Bass

Mike Bordin

:

Drums

Roddy Bottum

:

Keyboards
Production staff / artist
Billy Gould

:

Lyrics (track 6)
Mike Patton

:

Lyrics (tracks 1-9, 11)

Terry Robertson

:

Design (cd Version)

Jeff Price

:

Art Direction

Lendon Flanagan

:

Photography

John Golden

:

Mastering

Craig Doubey

:

Assistant Engineering

Jimm "Watts" Vereecke

:

Engineering

Matt Wallace

:

Producer, Engineering

Jim Martin

:

Lyrics (track 4)
Additional notes
The first album to feature Mike Patton on vocals who joined from Mr. Bungle.

On the vinyl version, "War Pigs", and "Edge of the World" don't appear.

Produced by Faith No More and Matt Wallace.
Recorded at Studio D, Sausalito, CA. During December 1988
Mixed at Blue Canyon, Studio City, CA. During January 1989
Mastered at K-Disk, Los Angeles, CA.
Career direction: Warren Entner / John Vassiliou for W.E.M.
Photography by Lendon Flanagan
Art direction by Jeff Price.
Faith No More Discography