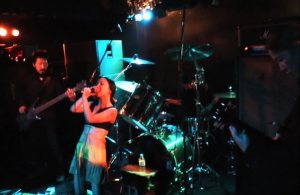 Corrupted
Yokota

:

Guitars

Talbot

:

Guitars

Chew

:

Drums

Takehito Miyagi

:

Keyboards
Lowell Isles

:

Bass

Jose

:

Bass

Monger

:

Bass

Ippei Suda

:

Acoustic Guitar

Hevi

:

Vocals, Bass

Shibata

:

Bass

(2004)
Releases : 17 Total votes : 0 Reviews : 0
Added by

SludgeLeader
Additional notes
Despite being from Japan, Corrupted sing mainly in Spanish. They also have songs in English, German and Japanese.

The band policy is not to do interviews (they never had done any in the past) and do not let professional photographers take their pictures. There aren't any promo pics of Corrupted, but a few shots from fans at concerts do exist.

At least one member of Corrupted is in the band Cavo, which released a record with (S)hit Jam Records in 2002.