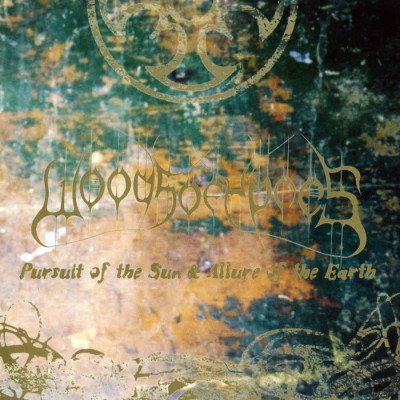 Pursuit of the Sun & Allure of the Earth
| | |
| --- | --- |
| Artist | |
| Type | Studio Full-length |
| Released | 2004-08-14 |
| Genres | Melodic Black Metal |
| Labels | Krankenhaus Records, Earache Records |
| Length | 1:01:11 |
Reviews : 0
Comments : 0
Total votes : 0
Rating : -
Have : 0
Want : 0
Added by

SludgeLeader
Pursuit of the Sun & Allure of the Earth Information
| | Title | Length | Rating | Votes |
| --- | --- | --- | --- | --- |
| 1. | Intro: The Looming of Dust in the Dark (& the Illumination) | 2:49 | - | 0 |
| 2. | The Will to Give | 7:35 | - | 0 |
| 3. | The Sun Was in My Eyes: Part One | 6:29 | - | 0 |
| 4. | The Sun Was in My Eyes: Part Doom | 7:13 | - | 0 |
| 5. | Allure of the Earth | 6:20 | - | 0 |
| 6. | Shedding the Deadwood | 5:23 | - | 0 |
| 7. | Dragged Across a Forest Floor | 9:19 | - | 0 |
| 8. | Summer's Envy | 4:44 | - | 0 |
| 9. | The Ghosts of Summer's Past | 5:55 | - | 0 |
| 10. | Outro: The End of August | 5:24 | - | 0 |
David Gold

:

Vocals, Guitars, Bass, Drums

Jessica Rose

:

Keyboards

Connor Sharpe

:

Bass

Steve Jones

:

Guitars
Guest / session musicians
Production staff / artist
Mark Coatsworth

:

Photography

Neil Lapperierre

:

Logo

David Gold

:

Producer

Glenn Fricker

:

Recording, Mixing, Mastering Engineer
Additional notes
Recorded, mixed and mastered at Spectre Sound, Ontario, Canada.

On this first edition of this release, the track listing on the back excludes track 7. "Shedding the Deadwood" is track 6 but "Dragged Across a Forest Floor" is track 8. The tracks follow as 9, 10 and 11.

Near the beginning of this recording, the rest of the band decided not to continue with Woods of Ypres, leaving the guitar and bass tracks almost completely recorded. Connor Sharpe (bass) and Steve Jones (guitar) are not properly credited for these performances in the album's booklet.
Woods of Ypres Discography