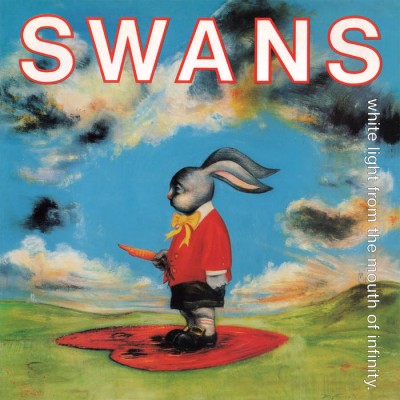 White Light From the Mouth of Infinity
Artist
Type
Studio Full-length
Released

1991-05-06

Genres

Gothic Rock

,

Post-Punk

,

Neofolk

Labels
Young God Records
Format

CD

, Digital, Vinyl (LP), Cassette
Length
1:09:19
Reviews : 0
Comments : 0
Total votes : 0
Rating : -
Have : 0
Want : 0
Added by

SludgeLeader
White Light From the Mouth of Infinity Information
| | Title | Length | Rating | Votes |
| --- | --- | --- | --- | --- |
| 1. | Better Than You | 5:51 | - | 0 |
| 2. | Power and Sacrifice | 5:37 | - | 0 |
| 3. | You Know Nothing | 5:46 | - | 0 |
| 4. | Song for Dead Time | 5:24 | - | 0 |
| 5. | Will We Survive | 6:51 | - | 0 |
| 6. | Love Will Save You | 6:07 | - | 0 |
| 7. | Failure | 6:20 | - | 0 |
| 8. | Song for the Sun | 5:03 | - | 0 |
| 9. | Miracle of Love | 6:43 | - | 0 |
| 10. | When She Breathes | 5:04 | - | 0 |
| 11. | Why Are We Alive? | 5:30 | - | 0 |
| 12. | The Most Unfortunate Lie | 5:02 | - | 0 |
Michael R. Gira

:

Voice, Acoustic Guitar, Keyboards, Effects, Sampler, Arrangement

Jarboe

:

Voice, Backing Vocals, Keyboards, Arrangement (choral, orchestral)

Norman Westberg

:

Electric Guitars

Steve Burgh

:

Mandolin, Guitar (12-string)

Clinton Steele, Christoph Hahn

:

Acoustic Guitar, Electric Guitars

Nicky Skopelitis

:

Acoustic Guitar, Electric Guitars, Baglama, Bouzouki, Banjo

Jenny Wade

:

Bass

Anton Fier

:

Drums, Drum Programming

Steve McAllister

:

Programming (additional)

Vincent Signorelli

:

Percussion

Hahn Rowe

:

Violin
Production staff / artist
M. Gira

:

Producer

Bryce Goggin, Steve McAllister

:

Engineer

Jim Thirlwell

:

Engineer (additional policing of the re-mixes), Co-producer (track 2)

Alex Armitage

:

Engineer (re-mix assistant)

Brian Martin

:

Engineer (re-mix)

Howie Weinberg

:

Mastering Engineer

Deryk Thomas

:

Illustration (front cover illustrations)

John Sarfell

:

Painting (inner foldout painting)

Patricia Mooney

:

Layout
Additional notes
Recorded September 1990 through February 1991, at B. Monster Studios, N.Y.C.
Re-mixed at Powerplay Studios, Long Island City.
Mastered at Masterdisk, N.Y.C.

Although originally released in several formats and in both the US and UK in the early 1990's, these recordings remained hard to find in their original form for a long time, due to the lack of timely reissues - they appeared only as part of the basis for the Various Failures 1988-1992 compilation at the end of the decade.

The entire album was however re-issued in 2015 both as part of the White Light From The Mouth Of Infinity / Love Of Life compilation and as a stand alone vinyl release. These versions contain the extra track "Blind" recorded during the same sessions, but omitted from the original release.