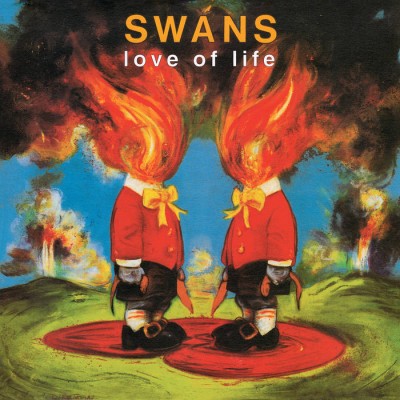 Love of Life
Artist
Type
Studio Full-length
Released

1992-02-24

Genres

Gothic Rock

,

Post-Punk

,

Neofolk

Labels
Young God Records
Format

CD

, Digital, Vinyl (LP), Cassette
Length
53:58
Reviews : 0
Comments : 0
Total votes : 0
Rating : -
Have : 0
Want : 0
Added by

SludgeLeader
| | Title | Length | Rating | Votes |
| --- | --- | --- | --- | --- |
| 1. | (----) | 0:17 | - | 0 |
| 2. | Love of Life | 3:41 | - | 0 |
| 3. | The Golden Boy That Was Swallowed by the Sea | 4:32 | - | 0 |
| 4. | (----) | 0:37 | - | 0 |
| 5. | (----) | 2:06 | - | 0 |
| 6. | The Other Side of the World | 4:40 | - | 0 |
| 7. | Her | 5:24 | - | 0 |
| 8. | The Sound of Freedom | 4:34 | - | 0 |
| 9. | (----) | 0:34 | - | 0 |
| 10. | Amnesia | 4:19 | - | 0 |
| 11. | Identity | 4:31 | - | 0 |
| 12. | (----) | 1:02 | - | 0 |
| 13. | In the Eyes of Nature | 4:42 | - | 0 |
| 14. | She Crys (For Spider) | 4:57 | - | 0 |
| 15. | God Loves America | 3:43 | - | 0 |
| 16. | (----) | 1:20 | - | 0 |
| 17. | No Cure for the Lonely | 2:56 | - | 0 |
Michael R. Gira

:

Voice, Acoustic Guitar, Electric Guitars, Performer (sounds), Sampler (samples), Arrangement (arrangements)

Jarboe

:

Voice, Keyboards, Backing Vocals (background vocals), Mellotron, Arrangement (arrangements)

Clinton Steele

:

Acoustic Guitar, Electric Guitars

Algis Kizys

:

Bass

Jenny Wade

:

Bass

Troy Gregory

:

Bass

Larry Seven

:

Bass, Electric Guitars

Ted Parsons

:

Drums

Vincent Signorelli

:

Drums
Production staff / artist
M. Gira

:

Producer, Artwork (design, concept)

Mark Richardson

:

Engineer (additional recording)

Martin Bisi

:

Engineer, Programming (additional)

Howie Weinberg

:

Mastering Engineer

Deryk Thomas

:

Illustration (front cover illustration)

Patricia Mooney

:

Artwork, Layout
Additional notes
Recorded October through December 1991.
Recorded and mixed at B.C. Studios, Brooklyn, NY.
Additional recording at Triclops Sound Studios, Atlanta, GA.
Transitions (----) recorded at Plastikville, N.Y.C., Courtesy of "The Beautiful People L.T.D.".
Mastered at Masterdisk, N.Y.C.

Although originally released on in several formats and in both the US and UK in the early 1990's, these recordings remained hard to find in their original form for a long time, due to the lack of timely reissues - they appeared only as part of the basis for the Various Failures 1988-1992 compilation at the end of the decade.

The entire album was however re-issued in 2015 both as part of the White Light From The Mouth Of Infinity / Love Of Life compilation and as a stand alone vinyl release.

Both CD and LP copies of the original editions were available in limited edition versions which included a cloth-bound box large enough to hold it and the preceding album, White Light From The Mouth Of Infinity.

The last track on the CD versions, "No Cure For The Lonely," does not appear on the LP pressings.

Narration (uncredited) on "Her" is by 12-year-old Jarboe (source: Michael Gira in interview with Convulsion Magazine, Edinburgh, 1993).