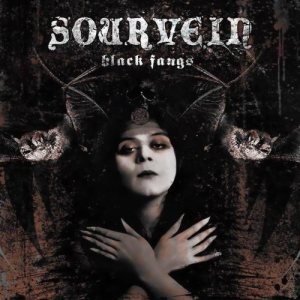 Black Fangs
Artist
Type
Studio Full-length
Released

2011-06-21

Genres

Sludge Metal

,

Doom Metal

Labels
Candlelight Records
Length
43:57
Reviews : 0
Comments : 0
Total votes : 0
Rating : -
Have : 0
Want : 0
Added by

SludgeLeader
| | Title | Length | Rating | Votes |
| --- | --- | --- | --- | --- |
| 1. | Fangs | 4:21 | - | 0 |
| 2. | Society's Blood | 4:04 | - | 0 |
| 3. | Nighteyes | 6:00 | - | 0 |
| 4. | Gasp! | 3:08 | - | 0 |
| 5. | Holy Transfusion | 5:40 | - | 0 |
| 6. | Flux... | 2:35 | - | 0 |
| 7. | Nomadic | 4:08 | - | 0 |
| 8. | Gemini | 4:25 | - | 0 |
| 9. | Bleeding Charm | 2:59 | - | 0 |
| 10. | Nocturnal/Negative Phaze | 6:37 | - | 0 |
T-Roy

:

Vocals, Guitars (Riffs)

King James

:

Guitars (1, 3, 5, 7-8, 10)

Jeffrie

:

Drums (3, 8, 10)
Guest / session musicians
Ahmasi O'Daniel

:

Bass

Ashley Williamson

:

Drums (1, 4-5, 7)

Burke

:

Drums (2, 6, 9)

Mike Floyd

:

Guitars (2, 4, 6, 9)
Production staff / artist
Vince Burke

:

Recording, Mixing, Producer

Johan Gripple

:

Artwork
Additional notes
Recorded at Sniper Studios, Moyock, North Caroline, 2009 / 2010. Produced by Vince Burke and Sourvein.

All lyrics written by T-Roy Medlin, all music by Sourvein.

Released as CD - in USA by Candlelight USA (cat. # CDL501CD); in UK (July 18) by Candlelight Records (cat. # CANDLE342CD).

Re-released in December 20, 2011 by Emetic Records as 12" vinyl + 7" vinyl ("Imperial Bastard" EP) (cat. # EME049/EME049.1), limited to 500 copies on grey/purple marble vinyl.

Model on cover - Theda Bara (Theodosia Burr Goodman; July 29, 1885 - April 7, 1955) - an American silent film and stage actress, one of the most popular actresses of the silent era, and one of cinema's earliest sex symbols. Her femme fatale roles earned her the nickname The Vamp.