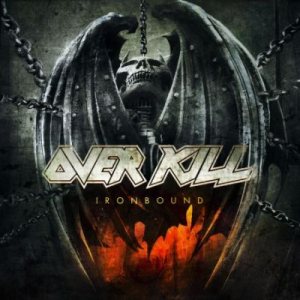 Ironbound
| | |
| --- | --- |
| Artist | |
| Type | Studio Full-length |
| Released | 2010-01-29 |
| Genres | Thrash Metal |
| Labels | Nuclear Blast |
| Length | 58:04 |
| Ranked | #8 for 2010 , #398 all-time |
| | Title | Length | Rating | Votes |
| --- | --- | --- | --- | --- |
| 1. | The Green And Black | 8:14 | - | 0 |
| 2. | Ironbound | 6:35 | - | 0 |
| 3. | Bring Me The Night | 4:18 | - | 0 |
| 4. | The Goal Is Your Soul | 6:43 | - | 0 |
| 5. | Give A Little | 4:44 | - | 0 |
| 6. | Endless War | 5:43 | - | 0 |
| 7. | The Head And Heart | 5:13 | - | 0 |
| 8. | In Vain | 5:15 | - | 0 |
| 9. | Killing For A Living | 6:16 | - | 0 |
| 10. | The SRC | 5:03 | - | 0 |
Bobby "Blitz" Ellsworth

:

Vocals

Dave Linsk

:

Lead Guitars

Derek ''Skull'' Tailer

:

Rhythm Guitars

Carlos "D.D." Verni

:

Bass

Ron Lipnicki

:

Drums
Additional notes
Produced by Overkill.
Mixed by Peter Tagtgren at Abyss Studio.
Engineered by DD Verni and Dave Linsk.
Recorded in July-September 2009 at Gear Recording Studio, Shrewsbury, New
Jersey.
Mastered by Jonas Kjellgren.
Additional recording at JRod Productions and Recording by Jon "Jonnyrod"
Ciorciari.
Edited by Dan Korneff.

Album cover and layout by Travis Smith.
Photos by Eddie Malluk.

All songs written by Ellsworth and Verni.

Released in the U.S. on February 9, 2010 by E1 Music.

Released as a standard jewel case edition, limited digipak, 180 gram gatefold
vinyl LP, 180 gram green gatefold vinyl LP (a Nuclear Blast mail order
exclusive) and a strictly mail order edition.

A music video for "Bring Me the Night" was made.

Up The Irons!
(95/100)
강렬하고 알차다.