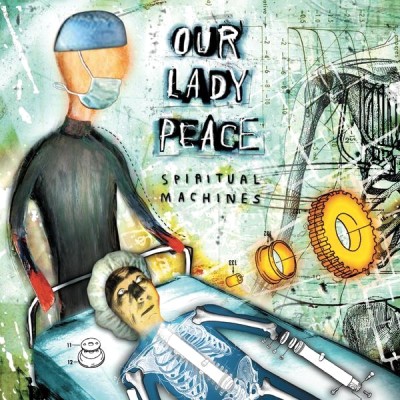 Spiritual Machines
Reviews : 0
Comments : 0
Total votes : 0
Rating : -
Have : 0
Want : 0
Added by

PopRock
Spiritual Machines Information
| | Title | Length | Rating | Votes |
| --- | --- | --- | --- | --- |
| 1. | R.K. Intro | 0:06 | - | 0 |
| 2. | Right Behind You (Mafia) | 3:14 | - | 0 |
| 3. | R.K. 2029 | 0:15 | - | 0 |
| 4. | In Repair | 3:58 | - | 0 |
| 5. | Life | 4:23 | - | 0 |
| 6. | Middle of Yesterday | 3:54 | - | 0 |
| 7. | Are You Sad? | 5:08 | - | 0 |
| 8. | R.K. 2029 (Part 2) | 0:12 | - | 0 |
| 9. | Made to Heal | 3:47 | - | 0 |
| 10. | R.K. 1949–97 | 0:44 | - | 0 |
| 11. | Everyone's a Junkie | 3:38 | - | 0 |
| 12. | R.K. on Death | 0:39 | - | 0 |
| 13. | All My Friends | 3:37 | - | 0 |
| 14. | If You Believe | 3:35 | - | 0 |
| 15. | The Wonderful Future | 4:30 | - | 0 |
Duncan Coutts

:

Bass Guitar

Raine Maida

:

Vocals

Jeremy Taggart

:

Drums, Percussion Except on "Right Behind You (mafia)" and "Are You Sad?"

Mike Turner

:

Guitars
Guest / session musicians
Matt Cameron

:

Drums on "Right Behind You (mafia)" and "Are You Sad?"

Jamie Edwards

:

Keyboards, Electric Guitar

Ray Kurzweil

:

Narration

Tyler Lanni

:

Singing on "R.K. 1949-97"
Production staff / artist
Angelo Caruso

:

Studio Engineer

Rich Chycki

:

Digital Editing

Chris Gauthier

:

Digital Editing

Arnold Lanni

:

Producer

Raine Maida

:

Co-producer

Stephen Marcussen

:

Mastering

Brendan O'Brien

:

Mixer

Rob Waite

:

Digital Editing

Oli Goldsmith

:

Artwork, Layout

Clay Patrick McBride

:

Photography

Catherine McRae

:

Art Direction

Our Lady Peace

:

Art Direction
Additional notes
"The Wonderful Future" ends at (4:30), and is followed by roughly 12 minutes of silence, after which a hidden conversation between R.K. and Molly is heard.

Japan bonus tracks
16. 4am (4:17)
17. Clumsy (4:29)
18. Car Crash (5:07)

Studio outtakes
Several known outtakes from the Spiritual Machines sessions were demos carried over from the Happiness... sessions, such as "Ordinary Day" and "Sleeping In". "Ordinary" is seen being played during demo sessions for Happiness... on the band's 1998 holiday fan club video. The lyrics were published in the Pied Piper's Union Christmas 1998 newsletter. A poor quality recording of the latter is available on YouTube as well as in trading circles. Other song names such as "La Bra" and "A Waste of Violence" (or The Weight of Violence) were revealed on web casts of the recording sessions or seen on original artwork by Oli Goldsmith.[68] A narrative outtake by Ray Kurzweil titled "R.K. Jack" was included as an intro to the track "Life" on A Decade.

In an August 18, 2000 article, it was revealed at that point that 8 songs were complete with four more being recorded in the past five weeks. This was before heading to New York to record "In Repair" and "Are You Sad", among others. Turner even noted "We've got so much music, we could even put another (album) out."
Our Lady Peace Discography