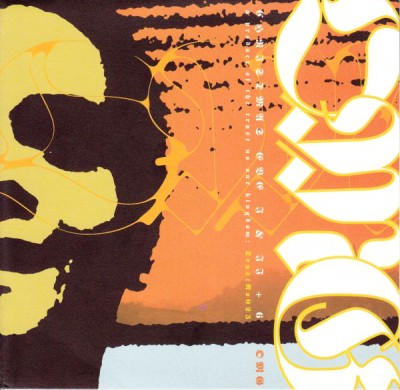 Christmas Eve I & II + 6
Artist
Type
EP
Released

2003-08

Genres

Sludge Metal

,

Ambient

,

Noise

Labels
Trust No One Recordings, Tortuga Recordings
Length
21:54
Reviews : 0
Comments : 0
Total votes : 0
Rating : -
Have : 0
Want : 0
Added by

SludgeLeader
Last edited by

SludgeLeader
Christmas Eve I & II + 6 Information
| | Title | Length | Rating | Votes |
| --- | --- | --- | --- | --- |
| 1. | Christmas Eve Part I | 7:08 | - | 0 |
| 2. | A.L.E. Makes Accident, or the Slow Advance of Now Liberated, but Virally Contagious Chimps | 2:16 | - | 0 |
| 3. | Skull of Geronimo | 0:36 | - | 0 |
| 4. | Masami's Music Box 1 | 0:49 | - | 0 |
| 5. | Branch Breaker (Live in NYC) | 0:49 | - | 0 |
| 6. | Masami's Music Box 2 | 1:04 | - | 0 |
| 7. | Christmas Eve Part II | 5:04 | - | 0 |
| 8. | Gratuitous Bonus Track Made by Sensible Musicians Doing Questionable Things | 4:08 | - | 0 |
Aaron Turner

:

Guitars, Vocals

Nate Newton

:

Guitars

Caleb Scofield

:

Bass, Backing Vocals

Santos Montano

:

Drums

Luke Scarola

:

Electronics, Programming
Guest / session musicians
James Randall

:

Vocals (track 3)

AM

:

Unknown (track 8)

SB

:

Unknown (track 8)

JRC

:

Unknown (track 8)

Kurt Ballou

:

Unknown : Unknown
Production staff / artist
Aaron Turner

:

Recording (tracks 2, 4, 6; overdubs 1, 7), Design [Images and Construction]

Kurt Ballou

:

Recording (tracks 1, 3, 7)

Nick Z.

:

Mastering [Assembled and Mastered]
Additional notes
Tracks 1, 2 & 7 recorded at God City Studios, Norwood, MA.
Overdubs on 1, 7 plus 2, 4, 6 recorded at The House Of Low Temperature, 91 Hillside Sst Location, Boston, MA
Track 5 recorded live at Brownies in NYC
Track 8 is a cover of "To Be With You" by Mr Big

Released as 3" CD, Cardboard Sleeve (Cat. # TR-027).
Re-released as 2x7" vinyl by Trust No One Recordings (Sweden, cat. # TNO023) in June 14, 2004: limited to 470 copies: 4 (test press) on black vinyl; 200 on white vinyl; 200 on clear vinyl; 66 от assorted color vinyl (clear with black swirl, grey marble, white with black swirl, clear white with white swirl).
Re-released as 12" vinyl by Hydra Head Industries in December 24, 2004 (Side A: Songs from Christmas Eve I & II + 6; Side B: Live tracks from a show in Brooklyn): limited to 50 copies on black vinyl. Released on Xmas Eve by Hydra Head.
Old Man Gloom Discography