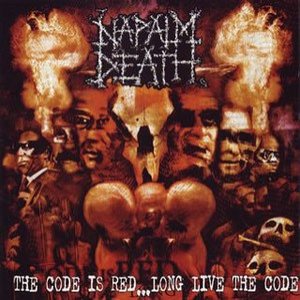 The Code Is Red... Long Live the Code
Artist
Type
Studio Full-length
Released

2005-04-25

Genres

Grindcore

,

Death Metal

Labels
Century Media Records
Length
45:13
Reviews : 0
Comments : 0
Total votes : 0
Rating : -
Have : 0
Want : 0
Added by

Eagles
Last edited by

SludgeLeader
The Code Is Red... Long Live the Code Information
| | Title | Length | Rating | Votes |
| --- | --- | --- | --- | --- |
| 1. | Silence Is Deafening | 3:48 | - | 0 |
| 2. | Right You Are | 0:53 | - | 0 |
| 3. | Diplomatic Immunity | 1:45 | - | 0 |
| 4. | The Code Is Red... Long Live the Code | 3:30 | - | 0 |
| 5. | Climate Controllers | 3:07 | - | 0 |
| 6. | Instruments of Persuasion | 2:59 | - | 0 |
| 7. | The Great and the Good | 4:11 | - | 0 |
| 8. | Sold Short | 2:47 | - | 0 |
| 9. | All Hail the Grey Dawn | 4:14 | - | 0 |
| 10. | Vegetative State | 3:09 | - | 0 |
| 11. | Pay for the Privilege of Breathing | 1:47 | - | 0 |
| 12. | Pledge Yourself to You | 3:15 | - | 0 |
| 13. | Striding Purposefully Backwards | 2:54 | - | 0 |
| 14. | Morale | 4:44 | - | 0 |
| 15. | Our Pain Is Their Power | 2:10 | - | 0 |
Mark "Barney" Greenway

:

Vocals

Mitch Harris

:

Guitars, Backing Vocals

Shane Embury

:

Bass, Backing Vocals, Rhythm Guitar (Track 14)

Danny Herrera

:

Drums
Guest / session musicians
Jello Biafra

:

Vocals (Track 7)

Jamey Jasta

:

Vocals (Tracks 6, 8)

Jeff Walker

:

Vocals (Track 12)
Production staff / artist
Russ Russell

:

Producer, Mixing, Mastering, Engineering, Recording

Dave Anderson

:

Engineering

Winter

:

Engineering (Jello's Parts)

Billy Gould

:

Engineering (Jello's Parts)

Mick Kenney

:

Artwork

Paul Harries

:

Photography
Additional notes
1000 copies on black vinyl
500 copies on red vinyl

Llimited to 1500 copies with poster-covers (black and white cover-art, full colour poster). The vinyl edition has also "Losers"-lyrics printed on the covers. The song, however, does not exist on the vinyl.

Song 7 features Jello Biafra of Dead Kennedys fame as a guest vocalist. Other guest appearances are made by Jamey Jasta of Hatebreed, and Jeff Walker of Carcass fame.

Some editions of the album were released with a bonus disc that contains material from a variety of death-metal bands. The Napalm Death song "Silence Is Deafening" is the 1st track off the compilation.

The bonus disc is a CD sampler put out by Century Media Records/Olympic Recordings. This sampler was also made available in issue #50 of PIT Magazine as a free cd. Page 25 of PIT Magazine also contains a back insert that can be cut out and put into a CD case.