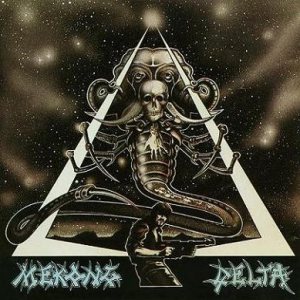 Mekong Delta
Reviews : 0
Comments : 0
Total votes : 0
Rating : -
Added by

Eagles
Last edited by

SludgeLeader
| | Title | Length | Rating | Votes |
| --- | --- | --- | --- | --- |
| 1. | Without Honour | 3:47 | - | 0 |
| 2. | The Cure | 3:39 | - | 0 |
| 3. | The Hut of Baba Yaga | 4:13 | - | 0 |
| 4. | Heroes Grief | 4:42 | - | 0 |
| 5. | Kill the Enemy | 3:51 | - | 0 |
| 6. | Nightmare Patrol | 3:25 | - | 0 |
| 7. | Shivas Return | 4:10 | - | 0 |
| 8. | Black Sabbath | 4:04 | - | 0 |
| 9. | Back Home | 3:43 | - | 0 |
Keil

:

Vocals

Rolf Stein

:

Guitars

Vincent St. Johns

:

Guitars

Björn Eklund

:

Bass

Gordon Perkins

:

Drums
Production staff / artist
Additional notes
Mastered at Studio-Nord-Bremen.

Cover painting by La Nuit Foundation

Released on CD in Japan along with the second LP by Teichiku Records in 1990.

Re-issued in '89 by Restless/GWR Records.

"Black Sabbath" is a medley of riffs and lyrics originally by Black Sabbath.

Reissued (remixed & remastered) in 2007 by Zardoz Music & Warner/Chappell. The trackorder is that of the vinyl version and the "Toccata" EP has been added as bonus.