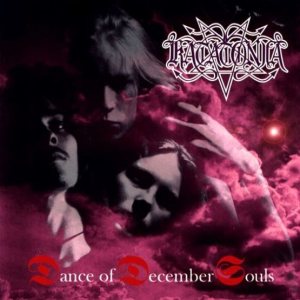 Dance of December Souls
Artist
Type
Studio Full-length
Released

1993-12-14

Genres

Death Metal

,

Doom Metal

Labels
No Fashion Records
Length
53:26
Reviews : 0
Comments : 0
Total votes : 0
Rating : -
Have : 0
Want : 0
Added by

Eagles
Last edited by

SludgeLeader
Dance of December Souls Information
| | Title | Length | Rating | Votes |
| --- | --- | --- | --- | --- |
| 1. | Seven Dreaming Souls (Intro) | 0:45 | - | 0 |
| 2. | Gateways of Bereavement | 8:15 | - | 0 |
| 3. | In Silence Enshrined | 6:30 | - | 0 |
| 4. | Without God | 6:51 | - | 0 |
| 5. | Elohim Meth | 1:42 | - | 0 |
| 6. | Velvet Thorns (of Drynwhyl) | 13:56 | - | 0 |
| 7. | Tomb of Insomnia | 13:09 | - | 0 |
| 8. | Dancing December | 2:18 | - | 0 |
Lord Seth

:

Vocals, Drums, Percussion, Lyrics

Blakkheim

:

Guitars, Music

Israphel Wing

:

Bass
Guest / session musicians
Day DiSyraah

:

Keyboards, Vocals
Production staff / artist
Antti Saarinen

:

Layout (vinyl 2010)

Chris Bruni

:

Liner Notes (2007)

Anders Nyström

:

Art Direction

David Castillo

:

Remastering

Lennart Kaltea

:

Photography

Peter Dahl

:

Mastering

Tom Martinsen

:

Cover Art, Photography

Dan Swanö

:

Producer, Engineering, Mixing

Joona Lukala

:

Remastering (vinyl 2010)
Additional notes
Recorded in Unisound Studios 04-09 April, 1993.
Produced by Dan Swanö & Katatonia.
Mastered at Cutting Room.

Re-releases:

Dance Of December Souls re-issued as a special digipack by Peaceville Records in 2007, including "Jhva Elohim Meth" -demo as bonus. Both are remastered and include liner notes from Chris Bruni - May 2007 and also slightly different cover art and a few rare photos in booklet.

Re-issued by Mystic Empire Records as a limited edition fold-out digipak with a different cover art (Cover) with "Jhva Elohim Meth" as a bonus under exclusive license from the band in 2006.

Reissued by Black Lodge Records with a new cover and new style logo, however Katatonia issued a statement saying, "...we do not support this re-issue and take complete distance from its existence."

2LP reissue released by Svart Records in March 2010. Includes the "Jhva Elohim Meth" -demo as bonus.