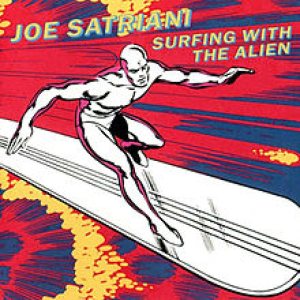 Surfing With the Alien Information
| | Title | Length | Rating | Votes |
| --- | --- | --- | --- | --- |
| 1. | Surfing With the Alien | 4:25 | 95 | 1 |
| 2. | Ice 9 | 3:59 | 90 | 1 |
| 3. | Crushing Day | 5:14 | 90 | 1 |
| 4. | Always With Me, Always With You | 3:22 | 90 | 1 |
| 5. | Satch Boogie | 3:13 | 95 | 1 |
| 6. | Hill of the Skull | 1:48 | 80 | 1 |
| 7. | Circles | 3:28 | 85 | 1 |
| 8. | Lords of Karma | 4:48 | 80 | 1 |
| 9. | Midnight | 1:42 | 90 | 1 |
| 10. | Echo | 5:37 | 85 | 1 |
Joe Satriani

:

Guitar, Keyboard, Drum Programming, Percussion, Bass, Arrangement
Guest / session musicians
Bongo Bob Smith

:

Drum Programming, Percussion

Jeff Campitelli

:

Drums, Percussion

John Cuniberti

:

Percussion
Production staff / artist
Joe Satriani

:

Producer

John Cuniberti

:

Producer, Engineer

Bernie Grundman

:

Mastering Engineer
Surfing With the Alien Reviews
Reviewer :

LORDOSOLIVAIS
(

100

/

100

)
Joe Satriani, for everyone who knows who he is, is one of the most amazing guitarists ever. Up to par with Hendrix and Jeff Beck, Satriani has created his own style of guitar, and has experimented with many different sounds and beats. Surfing With the Alien is Satriani's second album, following Not of this Earth. The album contains various styles of rock, from the fast paced riff-machines like Surfing with the Alien" and Satch Boogie" to the slower, melodic Echo"-type songs. A very impressive showcase for this unbelievable beast of a guitar player.
Surfing With the Alien Comments

Eagles
(90/100)
기타계의 사부, 조 새트리아니의 두 번째 앨범. 데뷔작에 비해 재즈 요소가 줄어들었으며 한층 강력한 락음악을 들려준다. 연주 앨범임에도 상업적으로 크게 성공하였으며 RIAA 플래티넘을 인증하였다.