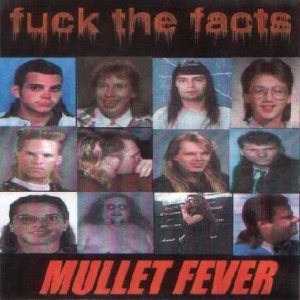 Mullet Fever
| | |
| --- | --- |
| Artist | |
| Type | Studio Full-length |
| Released | 2001-12 |
| Genres | Grindcore |
| Labels | Ghetto Blaster |
| Length | 34:16 |
Reviews : 0
Comments : 0
Total votes : 0
Rating : -
Have : 0
Want : 0
Added by

SludgeLeader
| | Title | Length | Rating | Votes |
| --- | --- | --- | --- | --- |
| 1. | All Hands on Deck | 0:15 | - | 0 |
| 2. | Don't Call My Slammin' Outfit Cool, Whitebread! | 0:43 | - | 0 |
| 3. | Doghead | 0:32 | - | 0 |
| 4. | Burning the Grindcore Rule Book | 1:00 | - | 0 |
| 5. | Cough Dropped from a Building | 0:03 | - | 0 |
| 6. | Mullet Fever | 0:06 | - | 0 |
| 7. | Gag Abflex | 0:17 | - | 0 |
| 8. | Honey Please! Not in Front of the Children | 0:32 | - | 0 |
| 9. | $4 Bill | 0:07 | - | 0 |
| 10. | Gated Community | 1:09 | - | 0 |
| 11. | I'm From (Europe) | 0:55 | - | 0 |
| 12. | Cue Bert and Ernie Reyes | 0:22 | - | 0 |
| 13. | Math Rock Superstar | 0:31 | - | 0 |
| 14. | Cartrata | 1:21 | - | 0 |
| 15. | Bowling | 0:14 | - | 0 |
| 16. | Yngwie vs. FTF | 0:31 | - | 0 |
| 17. | I Babysit for Drug Money | 0:35 | - | 0 |
| 18. | Red Mist | 0:12 | - | 0 |
| 19. | Me and Dani Filth in A 6-4 | 0:56 | - | 0 |
| 20. | South Beach High | 0:59 | - | 0 |
| 21. | Cold Turkey | 0:17 | - | 0 |
| 22. | Instrumental (Hugs and Stiches) | 0:47 | - | 0 |
| 23. | The Words Myth | 1:31 | - | 0 |
| 24. | Unfocused | 0:56 | - | 0 |
| 25. | Fisherman's Fiend | 0:31 | - | 0 |
| 26. | If You're 555, Then You're Giving Me a Fake Number | 0:10 | - | 0 |
| 27. | You Smoke You Toke (Course of Action cover) | 0:12 | - | 0 |
| 28. | Running Outta Time | 0:39 | - | 0 |
| 29. | Day Dream | 0:18 | - | 0 |
| 30. | Mattochrondria | 0:13 | - | 0 |
| 31. | Fate of Man (Disgruntled cover) | 2:18 | - | 0 |
| 32. | Master of Puppets (Metallica cover) | 1:40 | - | 0 |
| 33. | Outro (Sonny Bono) | 1:43 | - | 0 |
| 34. | Battle Hymn | 4:23 | - | 0 |
| 35. | Roach (live) | 2:16 | - | 0 |
| 36. | Revenge Tactics II | 3:02 | - | 0 |
| 37. | Just Say Yo | 2:00 | - | 0 |
Brent Christoff

:

Vocals

Topon Das

:

Guitars, Backing Vocals

Tim Audette

:

Guitars

Matt Connell

:

Drums, Backing Vocals, Piano
Additional notes
Recorded and mixed in September, November and December, 2001 at Total Bastard Studio,
Track 35 recorded live on September 9th, 2001 at the Underground in Ottawa, Canada at a show with Chachi on Acid and Leslie Dishslayer.

The catchphrase coined for this album is "37 songs in 35 minutes".

Re-released on tape by Kill for Food Records (release date unknown).
Fuck the Facts Discography