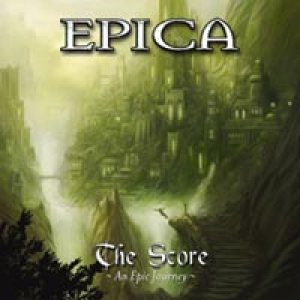 The Score - An Epic Journey
Reviews : 0
Comments : 0
Total votes : 0
Rating : -
Have : 0
Want : 0
Added by

Eagles
The Score - An Epic Journey Information
| | Title | Length | Rating | Votes |
| --- | --- | --- | --- | --- |
| 1. | Vengeance is Mine | 1:55 | - | 0 |
| 2. | Unholy Trinity | 3:10 | - | 0 |
| 3. | The Valley | 2:10 | - | 0 |
| 4. | Caught in a Web | 4:28 | - | 0 |
| 5. | Insomnia | 2:09 | - | 0 |
| 6. | Under the Aegis | 2:50 | - | 0 |
| 7. | Trois Vierges (Solo Version) | 4:43 | - | 0 |
| 8. | Mystica | 2:48 | - | 0 |
| 9. | Valley of Sins | 5:41 | - | 0 |
| 10. | Empty Gaze | 2:11 | - | 0 |
| 11. | The Alleged Paradigm | 2:26 | - | 0 |
| 12. | Supremacy | 3:22 | - | 0 |
| 13. | Beyond the Depth | 1:58 | - | 0 |
| 14. | Epitome | 1:19 | - | 0 |
| 15. | Inevitable Embrace | 3:53 | - | 0 |
| 16. | Angel of Death | 3:30 | - | 0 |
| 17. | The Ultimate Return | 4:50 | - | 0 |
| 18. | Trois Vierges (Reprise) | 2:07 | - | 0 |
| 19. | Solitary Ground (Single Version) | 4:09 | - | 0 |
| 20. | Quietus (Score Version) | 3:55 | - | 0 |
Simone Simons

:

Vocals

Mark Jansen

:

Guitars

Ad Sluijter

:

Guitars

Yves Huts

:

Bass

Jeroen Simons

:

Drums

Coen Janssen

:

Keyboards
Additional notes
This is the Soundtrack from the Motion Picture "Joyride".
This production also includes the song "Solitary Ground".

This album is something of a black sheep in Epica's catalogue. With the
exception of a few tracks, there are no drums, guitars or vocals. The rest of
the album is made up of symphonic compositions by Mark Jansen, Ad Sluijer, Yves
Huts and Coen Janssen.