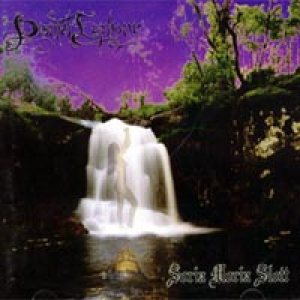 Added by

Eagles
Soria Moria Slott Information
| | Title | Length | Rating | Votes |
| --- | --- | --- | --- | --- |
| 1. | Prolog | 0:33 | 60 | 1 |
| 2. | Et Vintereventyr | 6:36 | 80 | 1 |
| 3. | Natten Loftet Sitt Tunge Ansikt | 3:31 | 60 | 1 |
| 4. | Alvedans | 4:12 | 70 | 1 |
| 5. | Trollbundet | 6:39 | 65 | 1 |
| 6. | Ekko | 9:43 | 70 | 1 |
| 7. | Isgrav, Det Siste Hvilested | 8:34 | 65 | 1 |
| 8. | Epilog | 2:31 | 60 | 1 |
Keltziva

:

Vocals

Ole K. Helgesen

:

Vocals , Guitars & Bass

Elin Overskott

:

Keyboards

Kristoffer Austrheim

:

Drums, Guitars & Bass
Additional notes
Choir on "Isgrav ..." by Ole, Austrheim & Asbjorn
Flute on this album played by Asbjorn
Female melody-lines created by Keltziva

"Soria Moria Slott" was recorded in April 1996, mixed in July/Aug. 1996 at West
Audio, Stavanger, w/Torbjørn Solum.
Mixed & mastered by Dismal Euphony and Torbjørn Solum

Front-cover photo by Espen Helgesen (c) 1995
"Dismal Euphony" & "Soria Moria Slott" logo by Videke Tveiten
SMS artwork by Scott Crinklaw (c) 1995
Photography by Espen Helgesen
"Prolog" by Jannike Tveiten

Note: Napalm Records re-released this album short after the first release of it.
The second one was remixed, had additional art-work and the bonus track
"Fortidssjeledrepte?" as # 5 on the album.

The CD was re-released again by Keltic Records, licensed exclusively by Napalm
Records. It was remastered and the CD includes 6 bonus tracks and a new layout.
Soria Moria Slott Reviews
Reviewer :

Eagles
(

50

/

100

)
Dismal Euphony의 정규데뷔작 Soria Moria Slott 앨범으로 Autumn Leaves 사운드의 토대가 되는 음악성을 엿볼 수 있다. 뛰어난 멜로디를 들려주긴 하지만, 문제점을 안고 있는 음반으로 연주력면에서 미숙한 부분이 보이고 특히, 녹음면에서는 시골구석의 패스트 블랙메틀 음반보다도 조악한 형상이라 심포닉 블랙메틀로서 높은 완성도를 기대할 수 없다. 폭넓은 공간감, 완급조절을 보여주고 있으며, 어쿠스틱 기타, 스트링 사운드의 적극 사용으로 사악함은 거의 들지 않는데 이는 일렉기타와 드럼이 약하게 녹음된 것도 한 몫 했다.
Dismal Euphony Discography