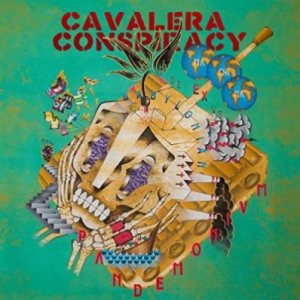 Pandemonium
Reviews : 0
Comments : 0
Total votes : 0
Rating : -
Have : 0
Want : 0
Added by

SludgeLeader
| | Title | Length | Rating | Votes |
| --- | --- | --- | --- | --- |
| 1. | Babylonian Pandemonium | 3:35 | - | 0 |
| 2. | Bonzai Kamikazee | 4:04 | - | 0 |
| 3. | Scum | 2:28 | - | 0 |
| 4. | I, Barbarian | 3:24 | - | 0 |
| 5. | Cramunhão | 5:28 | - | 0 |
| 6. | Apex Predator | 3:45 | - | 0 |
| 7. | Insurrection | 3:49 | - | 0 |
| 8. | Not Losing the Edge | 5:10 | - | 0 |
| 9. | Father of Hate | 3:31 | - | 0 |
| 10. | The Crucible | 3:27 | - | 0 |
Max Cavalera

:

Guitars, Vocals

Marc Rizzo

:

Guitars

Nate Newton

:

Bass

Iggor Cavalera

:

Drums, Percussion
Production staff / artist
Stephan Doitschnoff

:

Artwork

Tom Barnes

:

Photography

Glen Laferman

:

Photography

Péter Sallai

:

Design

Matt Turner

:

Assistant Engineering

Joe Laporta

:

Mastering

John Gray

:

Recording, Mixing, Engineering
Additional notes
Recorded at Loud Audio Recording, Glendale, AZ
Mixed at Jungle Studio, Mesa, AZ
Mastered at Sterling Sound, NYC.

All music and lyrics written by Max Cavalera, all songs arranged by Igor Cavalera and Max Cavalera.
All tracks published by Fintage Music International B.V..

A video clip was made for "Babylonian Pandemonium" and an official lyric video clip was made for "Not Loosing the Edge".
Cavalera Conspiracy Discography