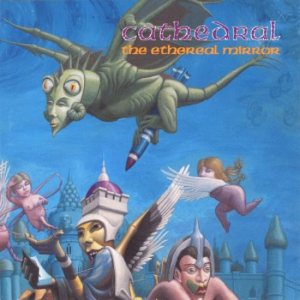 The Ethereal Mirror
Artist
Type
Studio Full-length
Released

1993-02-01

Genres

Doom Metal

,

Stoner Metal

Labels
Columbia Records, Earache
Length
54:22
Reviews : 0
Comments : 0
Total votes : 0
Rating : -
Have : 0
Want : 0
Added by

Eagles
Last edited by

SludgeLeader
The Ethereal Mirror Information
| | Title | Length | Rating | Votes |
| --- | --- | --- | --- | --- |
| 1. | Violet Vortex | 1:54 | - | 0 |
| 2. | Ride | 4:47 | - | 0 |
| 3. | Enter the Worms | 6:07 | - | 0 |
| 4. | Midnight Mountain | 4:55 | - | 0 |
| 5. | Fountain of Innocence | 7:12 | - | 0 |
| 6. | Grim Luxuria | 4:47 | - | 0 |
| 7. | Jaded Entity | 7:53 | - | 0 |
| 8. | Ashes You Leave | 6:21 | - | 0 |
| 9. | Phantasmagoria | 8:42 | - | 0 |
| 10. | Imprisoned in Flesh | 1:44 | - | 0 |
Lee Dorrian

:

Vocals

Gaz Jennings

:

Guitars, Bass

Adam Lehan

:

Guitars

Mark Ramsay Wharton

:

Drums
Production staff / artist
Dave Patchett

:

Cover Art

David Bianco

:

Producer, Mixing, Recording

Shaun Defo

:

Engineering
Additional notes
Recorded at Manor Studios, Oxford.

Track 1 by Jennings
Tracks 2, 4, 5 & 10 by Dorrian & Jennings
Tracks 3 & 7 by Dorrian, Lehan & Bianco
Track 6 by Dorrian & Lehan
Track 8 by Dorrian, Lehan & Jennings
Track 9 by Dorrian, Lehan, Jennings & Bianco.

Bonus tracks for Japan (and the Earache Records re-release):
11. Sky Lifter (Instrumental Version)
12. A Funeral Request (1993 Version)
Japan edition cat. # TKCK-88620 (Toy's Factory).

Re-released as a Dualdisc in May 2009 with "Statik Majik" EP as a bonus disc.
It comes remastered (by Shawn Joseph at Optimum Mastering - March 2009) with a poster of the album artwork on one side and on the reverse side is the Statik Majik EP artwork w/ lyrics at the bottom.

The DVD side of the Dualdisc contains a 40 min brand new documentary with key original band members, filmed in Coventry in 2009. Also featuring interviews with infamous cover artist Dave Patchett, an in depth exploration of the formation of Cathedral, the recording of "The Ethereal Mirror" and the growth of the band from humble beginnings to a major label deal.

Chapters of the documentary:
01. Musical Progression
02. A Major Deal
03. Manor Studio
04. The Artwork
05. Tension Rising
06. Fashion Sense
07. Disco Doom
08. Exit Adam
09. Where Are You Now?
10. Reflections.