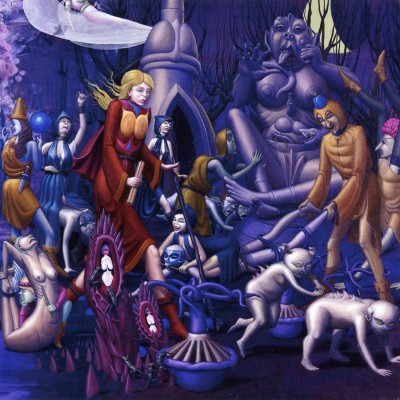 Forest of Equilibrium
| | |
| --- | --- |
| Artist | |
| Type | Studio Full-length |
| Released | 1991-12-06 |
| Genres | Doom Metal |
| Labels | Earache Records |
| Length | 54:09 |
| Ranked | #31 for 1991 , #1,918 all-time |
Added by

Eagles
Last edited by

SludgeLeader
Forest of Equilibrium Information
| | Title | Length | Rating | Votes |
| --- | --- | --- | --- | --- |
| 1. | Picture of Beauty & Innocence (Intro) / Comiserating the Celebration | 11:15 | 70 | 1 |
| 2. | Ebony Tears | 7:45 | 80 | 1 |
| 3. | Serpent Eve | 7:40 | 75 | 1 |
| 4. | Soul Sacrifice | 2:55 | 75 | 1 |
| 5. | A Funeral Request | 9:17 | 70 | 1 |
| 6. | Equilibrium | 6:07 | 75 | 1 |
| 7. | Reaching Happiness, Touching Pain | 9:10 | 70 | 1 |
Lee Dorrian

:

Vocals, Effects

Adam Lehan

:

Electric & Acoustic Guitars

Gaz Jennings

:

Guitars

Mark Griffiths

:

Bass

Mike Smail

:

Drums
Guest / session musicians
Reverend Wolski

:

Keyboards

Helen Acreman

:

Flute
Production staff / artist
Tom Warner

:

Layout (2009 re-release)

P.B.L.

:

Producer, Mixing

J. Barry

:

Layout

Jason Tilley

:

Photography

Mark Tempest

:

Engineering

Lee Dorrian

:

Mixing

Gaz Jennings

:

Mixing

Dave Patchett

:

Cover Art

Shawn Joseph

:

Re-mastering
Additional notes
Recorded at Workshop Studios, Redditch, between July and August in 1991.
Produced and mixed by PBL, assisted by Lee Dorian and Gary Jennings.
Engineered by Mark Tempest
Tape Op: The Wizard
Sleeve artist: Dave Patchett
Photos: Jason Tilley
Layout: J. Barry

European release date: February 25th, 1992.

Re-released as a Dualdisc in 2009 with "Soul Sacrifice" EP as a bonus disc. The DVD side of the Dualdisc contains 'Return to the Forest', a 40 min documentary with key original band members, filmed in Coventry in 2009, and also featuring interviews with infamous cover artist Dave Patchett, and is an in depth exploration of the formation of Cathedral, the recording of "Forest of Equilibrium" and the impact of the record on the metal scene. It is divided in chapters:
01. Lee & Napalm
02. Getting Together
03. Inspirations
04. Choosing a Name
05. The Artwork
06. Early Shows
07. Speed
08. The Start of Something
09. Getting Signed
10. Ebony Tears Music Video

The cover shown on the right is actually half the actual album artwork.

According to artist Dave Patchett, the artwork, when seen in full, has a "dark" and a "light" side, with an asexual "hero character" appearing at ease in both.
Frontman Lee Dorrian's interpretation of it is of a life without religion, where you have to take both the good and bad and make the choices for yourself.
Forest of Equilibrium Reviews
Reviewer :

Eagles
(

75

/

100

)
극단적인 스피드로 내달리는 Grindcore와는 반대로 극단적으로 어둡고 느리며 우울한 사운드로 일관하는 Doom Metal의 대표적인 밴드로 꼽히는 Cathedral의 데뷔작 Forest Of Equilibrium이다. 후기 Doom Metal의 역사에서 중요한 위치를 점하는 앨범으로 Napalm Death 출신의 보컬리스트 Lee Dorrian을 주축으로 결성된 이후 데모앨범 In Memorium을 제작하였으며 으듬해 Forest Of Equilibrium을 공개하게 된다. 기존 둠메틀의 장례식 분위기의 어둡고 침침한 사운드에 섬세한 어쿠스틱 기타를 도입하는 등의 다양한 시도를 엿볼 수 있다.